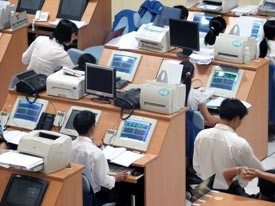 Viet Nam's stock exchange attracts foreign investors to buying. (Photo: T.C)
Analysts are surprised at the sharp decline of the whole market in general, and at Sacombank share in its debut in particular, although many listed companies' performance have met or exceeded their plans in the first months of this year. This paradox seems to happen only in Viet Nam's stock market, believe analysts.
As for foreign investors, they sold when the market upped and bought in when the market downed. On the contrary, Vietnamese investors did the opposite. They rushed to buy in when the market was bullish and made panic sell-off when the market drop, an official from the brokerage firm worried.
Not only were the investing public heavily influenced by the "herd instinct" but also were listed companies which could not avoid the volatilities. The press has pointed out that many companies hastily decided to offer additional share sales when stocks decreased, causing the State Securities Commission (SSC) to issue warnings in order to balance and calm the market.
Obviously, the pullback of Viet Nam's stock market in two recent months has caused great losses to several domestic investors as they bought high and sold low. On the contrary, foreign investors quietly increased their buy-in when stocks reached the bottom. Their trading volume moved inversely with that of VN-Index and they have always followed the rule of thumb – "buy low, sell high".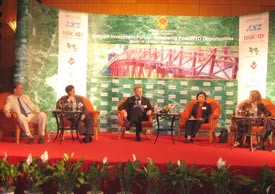 Foreign investors had more discussion about Viet Nam's investment change and they want to keep a place in this promising playground. (Photo: T.C)
At the Ho Chi Minh City Securities Trading Center (HSTC), in the last trading session of last week, the VN-Index closed at 482.31 points, a slight decrease of 1.01 points over the previous session while the total trading volume reached VND 163.3 billion. In this session, foreign investors bought 1,223,080 shares through price-matching trading, or 37.6% of the total trading volume and slightly lower than the record (1,346,370 shares) since the beginning of the year. Their buying via price-matching valued at VND66 billion, accounting for 40% of the market's trading volume.
Previously, there were only a handful of foreign investors, mainly small ones, in Viet Nam's stock market. Things have changed as several big international investors are seeking opportunities in Viet Nam, one of the most attractive emerging markets in the world.
News has recently come in that the American investment firm Merrill Lynch already obtained its trading code in Viet Nam last week. Citigroup had previously received its trading code and is marketing Viet Nam's stocks to foreign investors. Along with Citigroup, JPMorgan is entering this market.
Large foreign investors are accelerating their approach to Viet Nam as they want to keep a place in this promising playground, say analysts. However, they have not yet utilized all of their financial capability. They might still be skeptical about the risky development of the market, especially the sluggish equitization process of state-own enterprises.
Related Articles:
Foreign Investors Win Big on Pharmaceutical Shares
Comments on Vietnamese stock market: A Trap for Unwary Bulls?
Viet Nam Exchange Opportunity Knocks for American Investors
Pheim Singapore Prepares to Enter Viet Nam's Market
Foreign Investment Funds Boost Demand of Stock Market
Merrill Lynch Enters the Viet Nam's Stock Market