As the VN-Index continued its slide, foreign investors suddenly increased orders to buy. With their orders, total buying volume rose to three times sell orders, according to a recent report from the stock market.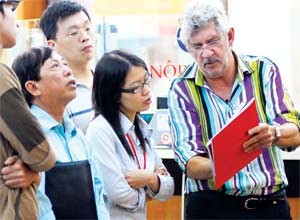 Foreign investors suddenly increase orders to buy as the VN-Index continues its slide
In yesterday's session, foreign investors reportedly bought 1.6 million shares worth VND204 billion (about US$12.75 million) or 25 percent of total trading volume. About 0.58 million shares worth VND69 million (US$ 4.3 million) were sold by foreign investors, making up 8 percent of total trading volume.

After enjoying a sharp surge in the beginning of this week, the VN-Index dropped 12.7 points to close at 976.

The bourse had a gloomy day as the exchange screen turned red yesterday displaying 97 losses, 13 gains and 19 unchanged.

Total trading volume was a mere 8.3 million shares worth VND880 billion (some US$55 million). Only 7.7 million shares were sold at a total value of VND809 billion (about US$50.5 million) much less than in the previous session where total matched volume was 10 million shares worth VND1,000 billion (US$62.5 million).