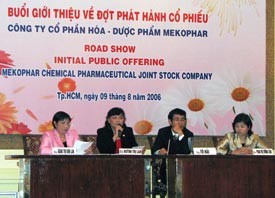 The roadshow of Mekophar's IPO. (Photo: T.C)
Foreign investors won 55.86% shares of the Mekophar Chemical Pharmaceutical Joint-Stock Company (Mekophar) in Thursday's auction at the Ho Chi Minh City Securities Trading Center.
Foreign investors bought 335,167 out of Mekophar's 600,000 shares. The remaining was sold to domestic investors at high prices.
Prior to the auction, the number of registered buyers was 192, including 45 institutions.
The total buying volume registered was 4.68 million shares, seven to eight times greater than the shares available, an exuberant auction atmosphere with investors having to place their bids high in order to get in good on Mekophar's stocks, one of the leading enterprises in the pharmaceutical industry.
Compared to the initial price of VND 50,000/share, the highest bid reached VND 75,500 shares while the lowest winning bid was VND 68,100/share. The average winning price was VND 69,113/share.
The total value of the share sale reached VND 41.46 billion.
Related Articles:
Turbulent Exchange Week Mellows Out
Ha Noi Bourse Prepares to Welcome Two New Listings
Mekophar's Future Shares Catch Big Attention