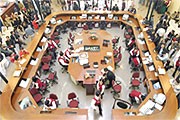 Ha Noi Securities Trading Center transaction's floor
Shares in three members of national power utility Electricity of Vietnam accounted for the great bulk of shares traded by foreigners at the Ha Noi Securities Trading Center in the 12 months since the northern bourse opened for business
.
According to a report just released by the Ha Noi bourse, shares in Vinh Son-Sonh Hinh Co. (VSH), Pha Lai Thermalpower Plant (PPC), and Khanh Hoa Power (KHP) made up more than 80% of the securities traded by foreign entities.
There are now 800 accounts held by foreigners at the Ha Noi bourse. In the past year, their total trading value was VND57 billion (US$3.56 million).
The report says that while the participation of foreign investors is still low, 2006 has been a definite improvement on 2005.
It goes on to predict that foreign institutions and individuals will have a great impact on the Vietnamese stock market in the years ahead.