A public workshop on "Dissemination of knowledge of securities investment" will be held on August 30, aiming to provide investors with essential information on securities investment theory and practice to help guide those interested in the investment field that is still relatively new in Viet Nam.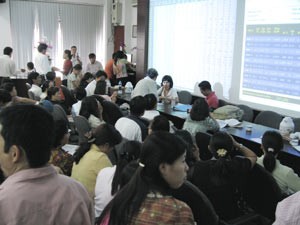 Those interested in securities investment will have an opportunity to learn about the investment field at the upcoming public securities workshop (Photo: TC)
Presentations will offer guidance on investment in Viet Nam's securities market through such topics as operational situations on past securities markets, explanations of the price/earnings ratio (P/E) and application of the P/E in Viet Nam's securities market.

The workshop, jointly organized by the Securities Science Research and Training Center under the Securities Training Center State Securities Commission and Incombank Securities Co., Ltd. will be held at 2 pm in the Party's Committee of Ho Chi Minh City meeting-hall on Ba Huyen Thanh Quan Street, District 3.