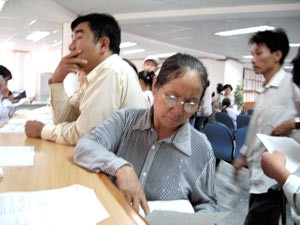 Individual investors were too stressful. (Photo: T.C)
This morning the VN-Index dropped 18.4 points, or 1.69 percent, to 1,072.16 points with 88 stocks falling in price. Only nine stocks managed to hold steady: BMC, BMP, CLC, HRC, ITA, NKD, SFI, SJS and TMC.
As always in a falling market buyers were harder to find, and the total trading value declined accordingly to VND871.82 billion.
Even though some analysts continue to be upbeat about the market's prospects, there's no doubt that the dropping VN-Index is an ominous portent for the market as a whole.
Many listed companies have posted sound results and predicted more good times ahead even as their share prices plummet.
At the brokerage houses the public galleries were full of stressed-out faces. And it wasn't the first but the fourth time running that the VN-Index had fallen alarmingly.
Worst affected are the small caps, which have taken a hammering to the tune of 20% down and more.
Analysts say the market was simply overheated after four months of soaring valuations and a correction was on the cards anyway. That's cold comfort to those investors, particularly the retail punters, who bought in at what could well have been a top and are seriously out of pocket.