The Ho Chi Minh Stock Exchange (HOSE) saw a minor correction today as anxious investors reacted to yesterday's heavy selling.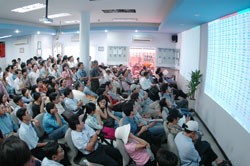 Investors watch electronic price board during a trading session.
The VN-Index began to founder as heavy selling began right after the opening bell. But some demand came in the second session, helping the index regain ground.
But by close, the benchmark index of the 156 leading companies and four closed-end funds lost 3.06 points, or 0.59 percent, to close at 508.47, as 100 stocks fell and 49 gained.
After going up for nine straight days, there were signs of jitters Tuesday though the index again closed up.
"Investors reacted nervously to the market's performance yesterday by selling heavily in the first session," a broker at a HCMC brokerage, who wished to remain unnamed, said.
"Institutional investors, who expect the market to be bullish, took up the slack. That helped prevent the market from falling further today."
He forecast the market to go through more corrections in the next few sessions.
Trading volume remained high, with more than 31 million shares exchanging hands.
Among large caps, Sacombank, the exchange's only listed bank, lost VND400 to close at VND27,800 after the central bank announced on its Web site yesterday it would keep banks' foreign ownership cap unchanged at 30 percent.
It was also the most active stock by volume, with over 7.1 million shares changing hands.
Technology giant FPT Corp, steel maker Hoa Phat Group, and Saigon Securities Inc, the country's biggest brokerage, hit the upper ceiling of 5 percent.
Among small caps, office equipment supplier Sieu Thanh Joint Stock edged down VND100 to close at VND40,700 following news that deputy director Nguyen Van Hao registered to sell 12,000 shares to cut his holdings to 12,380 shares.
PetroVietnam Tourism And Services Joint Stock Company also slipped VND1,400 to close at VND27,100 after PetroVietnam Financial Company informed it would sell 78,967 shares in the firm to reduce its stake to 13.6 percent.
Foreign investors bought three million shares for VND172 billion (US$10.3 million) and sold two million shares for VND128 billion.
At the Hanoi Securities Trading Center, the HaSTC-Index fell 2.73 points, or 1.71 percent, to end the day at 156.78.