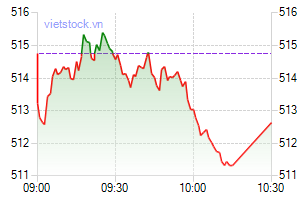 Movement of VN-Index on June 22. (Photo: Vietstock.vn)

Vietnam's benchmark VN-Index, a measure of 240 companies and four mutual funds listed on the Ho Chi Minh Stock Exchange, made a correction on June 22, giving up 0.41 percent, or 2.12 points, to finish at 512.63 points.
Among the index members, 63 gained, 152 fell, while 29 treaded water.
The market enjoyed robust trading as more than 78.3 million shares, worth VND2.11 trillion, were traded.
Saigon Thuong Tin Commercial Bank or Sacombank (STB), which accounted nearly 20 percent of trading volume today, won the position as the most active share in volume with more than 13.7 million shares changing hands, of which two-thirds were bought by foreign investors.
From June 4 to June 15, Amersham Industries Limited, a shareholder of Sacombank, sold 2.5 million shares, sending its holdings to 2,326,487, accounting for 0.35 percent of chartered capital, to restructure its investment category.
PetroVietNam Transportation Corporation (PVT) followed with 5.86 million shares traded, down 1.85 percent to VND15,900.
Refrigeration Electrical Engineering Corporation (REE) came third with 2.58 million shares.
Ca Mau Trading Joint Stock Company (CMV) and Petrolimex Joint Stock Tanker Company (PJT) both added the daily maximum allowed limit of 5 percent, reaching VND37,800 and VND12,600 respectively.
South Vietnam Container Shipping Joint Stock Company (VSG) rose by 4.96 percent to VND12,700, up from VND12,100 yesterday.
Losers on the southern bourse included the newly listed steel producer Dai Thien Loc Corporation (DTL), Post and Telecommunications Investment and Construction Joint Stock Company (PTC) and consumer products producer Son Ha International Corporation (SHI).
The Hanoi's HNX-Index dropped 2.09 points, or 1.27 percent, to close at 161.92 points. Trading volume remained at a high level with 45.8 million shares (worth VND1.38 trillion) changing hands.
The UPCoM-Index lost 0.47 points, falling to 45.55 points, as of 11:25 am local time. The market of unlisted stocks recorded 97,000 shares traded, worth VND1.6 billion.
US stock markets also finished in the red with the Dow Jones Industrial Average index sliding 0.08 percent to 10,442.41 points. The Nasdaq Composite index plunged 0.9 percent while the S&P 500 index retreated 0.39 percent.
Japan's Nikkei 225 index lost 1.22 percent. Meanwhile, Hong Kong's Hang Sheng index edged up 0.08 percent and China's Shanghai Composite index advanced 0.14 percent.