Vietnamese shares on both local markets extended rallies for a fifth day yesterday as increasing oil prices helped improve investor confidence in energy stocks.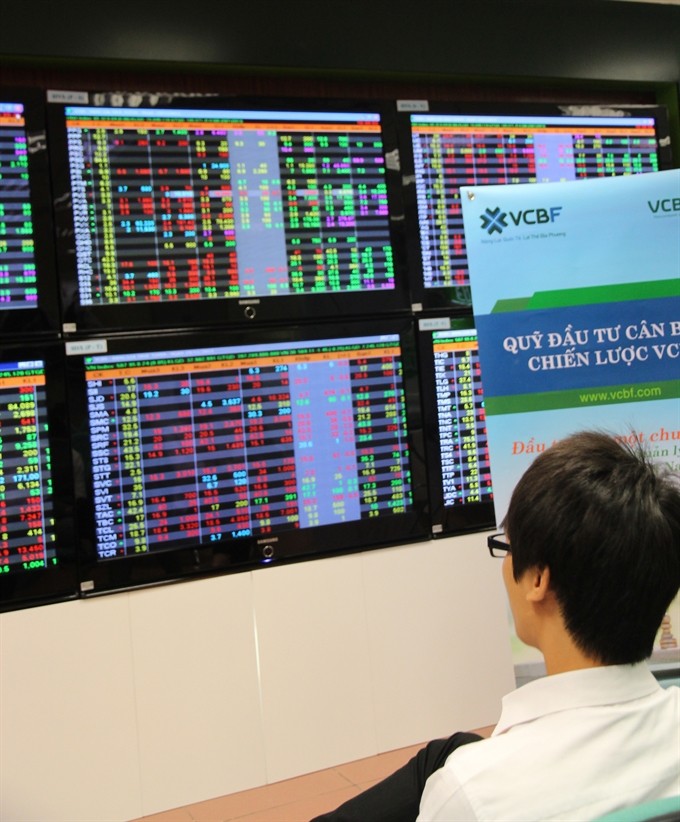 An investor keeps track on share movements at Vietcombank Securities Corp's exchange platform. — VNS Photo Trương Vị
The benchmark VN Index on the HCM Stock Exchange rose 0.6 per cent to finish at 623.37 points, totaling a five-day gain of 3.1 per cent.
The HNX Index on the Hà Nội Stock Exchange closed up 0.7 per cent at 82.45 points to rally 1.7 per cent in the last five trading sessions.
Investor confidence in local energy stocks was bolstered as oil prices struggled to stay positive while members of the Organisation of Petroleum Exporting Countries had a meeting to discuss production policy.
US crude West Texas Intermediate (WTI) was traded at US$49.14 a barrel, up 0.3 per cent from Wednesday, and London-traded Brent crude increased slightly to trade at $49.76 a barrel.
Local energy stocks managed to erase losses made in the early sessions and finished higher than Wednesday's values.
PetroVietnam Gas Corp (GAS) advanced 2.5 per cent, while others such as PetroVietnam Drilling and Well Service Corp (PVD), PetroVietnam Mud Drilling Corp (PVC) and PetroVietnam Technical Service Corp (PVS) rose between 1.1 per cent and 1.4 per cent.
"Investors also remained upbeat as the latest Nikkei data showed that Việt Nam's Purchasing Managers Index (PMI) for May reached 52.7 points, proving a significant recovery in the country's production," Sài Gòn-Hà Nội Securities Corp (SHS) wrote in its daily report.
Such high investor sentiment helped boosted property firms, banks and brokerage companies, which took turns to drive markets up in the previous sessions.
Real estate and construction firms that climbed yesterday included FLC Group (FLC), Thăng Long Investment Group JSC (TIG), An Dương Thảo Điền JSC (HAR), Construction JSC No 5 (SC5) and Việt Nam Investment Construction and Trading JSC (CTX). Those stocks were up between 1.3 per cent and 5.9 per cent.
The four largest listed banks, Vietcombank (VCB), the Bank for Investment and Development of Việt Nam (BID), Vietinbank (CTG) and Sacombank (STB), recorded gains of between 0.4 per cent and 1.1 per cent.
Sài Gòn Securities Inc (SSI), Kim Long Securities Corp (KLS) and FIT Investment JSC (FIT) led the financial service sector up. SSI edged up 0.5 per cent, KLS grew 1.9 per cent and FIT was up 1.5 per cent.
Investors on both local markets exchanged more than 190 million shares worth VNĐ2.55 trillion ($113.6 million) yesterday, which was slightly down from Wednesday's trading value.