This time of the year is the time for annual shareholder meetings of listed companies. The "red heated" stock exchanges in Ho Chi Minh City
and Ha Noi have made the atmosphere of these meetings even more exciting.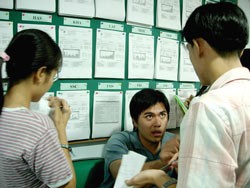 Investors discuss eagerly about companies development strategies. (Photo: T.C)
Outside the meeting hall, groups of investors shared their delight as stocks were closing higher.
Inside the hall, discussions between the boards and shareholders were no less exciting with the introduction of the companies' new plans and projects. Many prominent issues have been live noted through these meetings.
The trend of expanding & diversifying business
The first to be mentioned is Cables And Telecom Materials Joint-stock Company (Sacom) with its ambition to become a multi-business group by 2010. The company intends to enter many new industries in addition to its main business – electric & telecom cable production.
Next, Kinh Do, pursuing the same dream to become a strong economic group, has decided to merge the 2 already-listed companies, Kinh Do Corporation (KDC) and North Kinh Do Food Joint-stock Company (NKD). The merger is expected to strengthen the company's competitiveness. The detailed plan of the merger will be made by the company's management and announced in Q2, 2006.
Phuong Nam Cultural Joint-stock Corporation (PNC) not only wants to solidify their position in the cultural product business but also intends to expand its operation to the establishment of Megastar cinema chain in Ha Noi, Hai Phong, Da Nang, Bien Hoa, and Ho Chi Minh City.
Even the Trans-Forwarding And Warehousing Corporation (Transimex-Saigon), which never thought of turning to other fields, has also stepped up to venture into the real estate market with its plan to build an office building on its current headquarters site.
"Newcomer" Ha Tien Transport Joint-stock Company (HTV) also has 4 large investment projects from building river ports in Vinh Long and building new barges, to providing transport services for cement factories.
Bien Hoa Confectionery Corporation (Bibica) hhas recovered from the 2002 crisis, and is currently preparing for two new projects: the Layer cake facility in Binh Duong and High-quality cake & candy facility in Bien Hoa.
Expanding plans of Khanh Hoi Import-Export Joint-stock Company (Khahomex) include 4 new real estate projects and a strategy to break into nursery education...
Obviously, once having been listed, companies can relax no more. The pressure of increased performance forces companies to find out their own development scheme in order to survive.
Issuing stocks for profit distribution and capital mobilization for new projects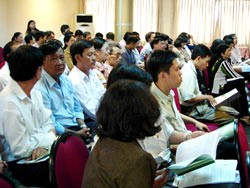 At Saigon Fuel Company's shareholder meetings: shareholders take a careful look at the company's performance and its plan in the coming year. (Photo: T.C)
This is the most highly-spirited discussion at most of these meetings. With to the success of the last fiscal year, many companies have proposed larger profit distribution to shareholders.
Hoa An Joint-stock Company (DHA) has decided to pay dividend (10%) by cash, raising the dividend paid in 2005 to 30%. Moreover, the company also issues bonus stocks with the distributing ratio of 10:3 in order to pay the remaining earnings of over VND 11.5 billion.
The quiet VTC Telecommunications Joint-stock Company (VTC) has also voiced its decision to issue 617,620 bonus shares from the company's retained earnings.
Besides, in order to take advantage of the high demand, many companies have decided to issue more shares to finance their expansion plans.
Bibica needs over VND 80 billion for its new projects in 2006 and will, presently, issue an additional 3.4 million shares.
Khahomex will also offer more than 3.13 million extra shares after using stocks to pay dividend.
As for Long An Food Processing Export Joint-stock Company (Lafooco) and Import-Export & Economic Co-Operation Joint-stock Company (Savimex), 2 million shares will be sold to finance the two companies' development plans.
Through these meetings, there are two ways of issuing stocks: private placement and offer of preferential buying rights to existing shareholders. It was probably due to the success of private placements of ReeTech, Sacom, PNC, and NKD last year that many listed companies have chosen this method of stock offering.
As for shareholders, the added value from preferential buying rights recently was one of the reasons behind the soaring of stock prices and created momentum for the rising prices to sustain. This is the main benefit of shareholders. Therefore, these issuing plans have been warmly welcomed by investors.
As the market's lack of quality stocks persists, these issuances are likely to enjoy great success and can partly ease current "stock thirst" of investors.
Related Articles:
The Viet Nam Stock Market over two months: The Heat is still there
The Latest Fever of Vietnamese Stocks: How to Cool the Market?
Related Links:
Ho Chi Minh City Securities Trading Center (HSTC)