Investors show concerns on financial stocks as some securities enterprise last year made up positive earning reports in an effort to hide their gloomy business results.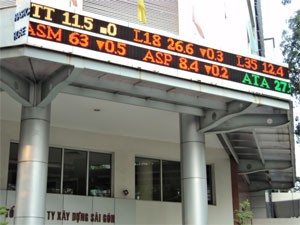 A trading board of a HCMC-based brokerage shows share prices on both two bourses. Some securities firms made up positive earning reports in an effort to hide their gloomy business results (Photo:Minh Tri)
VNDirect Securities Joint Stock Company (VND) announced it made a pretax profit of VND53 billion (US$2.65 million) in the third quarter last year in spite of the bearish stock market, with the benchmark VN-Index dropping to 450 from 500.
However, the brokerage later said it incurred a loss of more than VND117 billion ($5.85 million) in the last three months of 2010 as the market regained the level of 500.
The firm's Board of Directors also surprised its shareholders by replacing general director Nguyen Minh Huong with 24-year-old Nguyen Hoang Giang.
Some financial experts said the third-quarter profit came from VND's option trading service, which has not been approved in the Law of Securities. The brokerage suffered heavy losses in the next quarter since the market watchdog instructed to suspend the service.
The experts' analysis relied on the securities firm's earning report in the last two quarters last year, showing VND's sales from non-core services making the largest part out of its total revenue.
The brokerage said in the report that the sales from non-core services came from "efforts to seek solutions and development of the business activities".
Analysts said the enterprise's heavy loss of more than VND117 billion was unlikely caused by the slumping market, which cut VND's liquidity and affected its stock brokerage services badly.
They also rejected the possibility that the watchdog's request of stopping the option trading service was the main cause of the loss as the cost of carrying out the service was unremarkable.
"Brokerages' profits mainly come from trading stocks," said a financial expert of a Ho Chi Minh City-based securities company.
"VND spent around VND14 billion ($700,000) for purchasing shares in the fourth quarter of 2009, but the cost surged to nearly VND167 billion in the last three months of 2010.
"The surging expense raised its total cost of stock trading to more than VND191 billion, while its revenue was more than VND92 billion only".
He also noticed that the brokerage's controversial earning report made bad impact to investors.
Analysts said investors was carrying high risk of losses as the market share prices was being affected by both daily purchases and rumors about listed firms.