Many investors are seeking a safe and lucrative investment class as the government banned on unofficial trades in gold bullion and the US dollar trading, while property and stock markets remain bearish.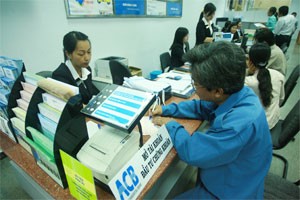 An investor registers to open a stock trading account at a HCMC-based branch of Asia Commercial Bank. Investors are struggling to make investments this year as the major investment classes are being frozen (Photo:Minh Tri)
Efforts to fight against accelerating inflation and stabilize the macro economy have seen the State Bank of Vietnam take measures to gradually elimininate gold trading in the so-called black market.
The move saw the domestic gold price dropped sharply in spite of the global increasing price, with local investors rushing to dump the precious metal.
The central bank announced early this month that the issue of licenses for gold bullion trading and production has been stopped.
Investments in the greenback are no longer profitable this year as the central bank ordered commercial banks to curbs on lending and urged less use of US dollars and gold as it strives to tame inflation and stabilize the economy.
As a result, lending rates on dollars and the foreign exchange rate of dong and the greenback are on downward trend.
The central bank also instructed lenders to limit credit to "non-production businesses" such as those investing in the stock and property markets.
Many investors said they were struggling to make investments as the major investment classes including gold, dollar, property and stock are carrying high risk of losses.
Dr. Le Xuan Nghia, vice chairman of the National Financial Supervisory Commission, said the real estate and stock markets will rally only when banks' interest rates decline, which will likely to happen at yearend.
However, Nghia recommended that investors should pick shares in businesses with healthy earning results and dividend rate of more than 20 percent, which are potential long-term investments.
Dr. Tran Hoang Ngan, deputy head of the University of Economics Ho Chi Minh City, considered saving money in banks as a safe investment class, with high liquidity.
With high inflation, it is hard now to make net profits at a rate of 14 percent per year, which is equal to banks' depositing rate on dong, Ngan said.
Financial experts said many commercial banks raised their non-term saving rates in the last two weeks in an effort to cope with the central bank's Circular No.4, regulating depositors withdrawing before due dates will get non-term saving rate.
Southeast Asia Commercial Joint Stock Bank and VPBank said that the saving rate on non-term dong deposits was 9-12 percent per annum and 9 percent per annum respectively.
The State Bank of Vietnam early this year officially recognized the rate cap on dong deposits that had been established by local banks.
 
All banks are required to publicly announce their deposit rates and are not allowed to offer perks or cash bonuses that would raise rates above 14 percent, the central bank said.