The bearish stock market with low liquidity and investors suffering significant losses in the last two years saw financial experts propose to restructure the market.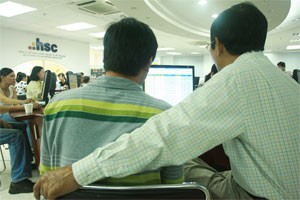 Two investors discuss the market move during a trading session at the Ho Chi Minh Securities Corporation. Economists propose to restructure the stock market due to its losing streak (Photo:Minh Tri)
The outstanding loans on stock investments of banks reached around VND10 trillion (US$500 million) last year
Investment fund VinaCapital announced last month that its two closed-end funds – Vietnam Opportunity Fund Limited and Vietnam Infrastructure Limited – reported a loss of more than US$43 million due to a stronger dollar, which jumped from VND18,932 per dollar to VND20,693.
Some others said they would consider on the possibility of closing their fund as they suffered great losses from the volatile foreign exchange rate.
Share price of the finance and insurance group Bao Viet (BVH) languished around VND54,000-55,000 in the last three months of 2010, but it surged to nearly VND100,000 in January thanks to a strong buying of foreign exchange traded funds.
Foreigners bought large amounts of BVH at the average price of VND75,000 or more, while sold just a few, said financial experts. As the share price rising to VND92,000 last week, foreign investors were expected to make a profit rate of 20 percent.
However, brokers said they would struggle to take profits as no individual investors would be eager to buy the stock amid the slumping market.
The bearish market saw Sacombank Securities Company, also known as SBS, had to cut half of its pretax-profit target to VND200 billion ($10 million) at the end of last year, but it still missed the goal, making VND100 billion only.
Analysts said the HCMC-based brokerage's loss mainly came from the financial services, which provided loans for investors. Interest rate of SBS's lending contracts could not catch up with banks' fluctuated ones.
"The stock market is one of the major investment classes, mobilizing capitals to the economy. Therefore, it should be the place where investments from various funds flow into," said Ho Ngoc Bach, deputy head of Dong Nai-province Dai A Bank.
"However, it is always badly effected by the central bank's tight monetary policy, which restricts loans on stock investments. Loans against stocks should be a trigger to boost the stock market only, while capitals from individual and institutional investors should play the major part."
Experts warned that businesses with large capitalization from share issuances could drive the benchmark VN-Index through bumping money back into the stock market.
Cables and telecommunications materials supplier Sacom (SAM) said in a financial report that its capitalization in the last quarter of 2010 was nearly VND1.6 trillion ($80 million), of which the long-term financial investments reached around VND1 trillion.
"Last October, foreign investors spent around $18 million on BVH shares in insurance firm Bao Viet, lifting the benchmark VN-Index up to 520 from 420. Therefore, it is very easy for a company with large capitalization easily to drive the market," said a HCMC-based financial expert.
"The governement's plan on the stock market development will focus on the increase in market scale and liquidity consolidation, as well as boosting the market's capitalization to hit 70-100 percent of the gross-domestic-product in 2020," said Nguyen Thanh Long, deputy head of the fund management section of the State Securities Commission.