The Hanoi Securities Trading Center (HASTC) is expecting to open a private club for companies listed there next month.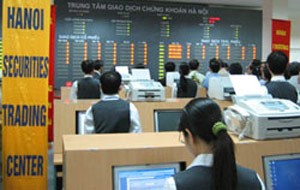 Trading stocks at the Hanoi Securities Trading Center
At a workshop training listed companies on how to publish information on the stock market yesterday, HASTC director Tran Van Dung said that there are now 86 companies listed there representing a diverse array of business sectors including banking, finance, securities, transportation and industrial production.
 
He noted that a club of listed companies would provide a forum for members to talk shop and develop a common front regarding policies at the Securities Trading Center and the State Securities Commission.
 
Once the club is up and running, it would eventually merge with its other HCMC counterpart, the Listed Company Club of the Ho Chi Minh City Securities Trading Center, and take on the name the Listed Company Association.