Many listed enterprises had sold projects, assets and even rights to buy bonus shares in an effort to cover heavy losses, which are caused by the economic turmoil.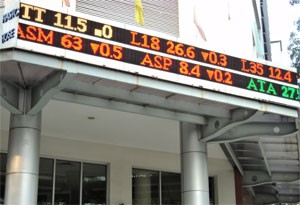 An eletrical board show share prices on both bourses updated in HCMC. Many listed firms have incurred heavy losses so far this year due to an economic slowdown (Photo: Minh Tri)
Increasing freight cost and high debt level leave Vietnam Ocean Shipping JSC or Vosco at high risk of losses.
More than 80 percent of the Ho Chi Minh City-listed company's total loan is in dollar, with an interest rate of around 5 percent per annum.
Although the lending rate is much lower than ones on dong loans, analysts estimate that the maritime firm has to suffer an interest expense of nearly VND190 billion (US$9.5 million) this year.
Profit of the Hai Phong City-based firm this year is expected to mainly come from sales of some of their vessels as the maritime sector is slowing down.
Vosco earned an extraordinary profit of nearly VND98 billion in the second and the third quarter last year by selling three vessels, including Cabot Orient, Dai Hung and Dai Long.
In the second quarter of this year, the maritime firm made a profit of about VND21 billion ($1.05 million) from selling the dry cargo ship Vinh Long.
However, analysts notice that the extraordinary profit this year could not offset the losses in the second quarter.
The company says in a financial report that its after-tax profit slumped nearly 98 percent year-on-year in the second quarter, amounting to more than VND848 million.
The sharp decrease came from the increasing input costs and stronger dollar, which boosted the interest expense, according to the report.
Financial experts warn that Vosco will struggle to meet its net profit target of VND128 billion this year.
Efforts to weather the difficult time have seen the maritime firm sell 3 million rights to buy bonus shares in unlisted Maritime Bank at the starting price of VND100 per share.
One right allows holders to buy one bonus share at the price of VND12,000 per share. The Hanoi-based lender issues additional shares in order to raise its registered capital to VND7 trillion ($350 million) from VND5 trillion.
Vosco has announced the sales of its entire stake in the lender at the annual general meeting last year.
Yet a slumping share price of the Maritime Bank forced the enterprise to halt the purchase.
"Maritime Bank's shares are traded at below the face value of VND10,000 per share on the OTC market," a broker in HCMC notices.
"However, the starting price of bonus shares is VND12,000 per share. Thus I think Vosco will likely to fail to sell the rights."
The maritime plans to set up a subsidiary with a registered capital of VND15 billion ($750,000) and designate an area of around 300 square meters in the coastal city of Nha Trang to build a hotel despite its high debt level.
Vosco's share price has plummeted by nearly 60 percent so far this year, closing at VND4,500 on Thursday. The Ho Chi Minh Stock Exchange's benchmark VN-Index lost 21 percent.