Many stock experts earlier highly recommended that long-term investments were the safest way to trade stocks in Vietnam. But with the bearish market lasting for years, long-term investors are set to suffer heavy losses this year, including Saigon Securities Incorporation's convertible bond holders.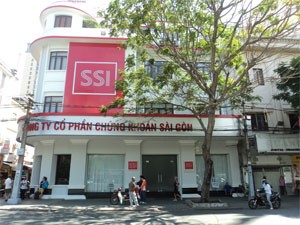 Analysts say the market prediction ability of big institutional investors and investment funds remained low (Photo:Minh Tri)
Saigon Securities Incorporation, the country's largest listed brokerage known as SSI, made VND2 trillion (US$100 million) from the issuance of two million convertible bonds worth VND1 million for each early last year.
A bond has an interest rate of 4 percent per annum and a term of 12 months, where it pays off 85 percent of SSI share price at the maturity time. SSI share price at that time was at VND35,639.
SSI dropped a minor 0.4 percent to close at VND22,100 on March 8th. The benchmark VN-Index moved up by 1.53 percent to 475.38 on the day.
The Ho Chi Minh Stock Exchange's VN-Index, the country's major index, slid 4.02 percent, the most since November 26, 2009, to 483.68 on February 21, with 253 out of 280 stocks losing ground. The gauge has lost 10 percent since the market reopened after the Tet holiday.
Vietnam is under pressure to curb inflation that is poised to accelerate from a 23-month high as electricity prices rise and four currency devaluations in 15 months spur import costs. The nation raised its refinancing rate by 2 percentage points to 11 percent last week, joining neighbors from Thailand to China in tightening policy.
With the share price having been slashed by 38 percent since the issuance day, SSI convertible bond holders are set to suffer a similar percentage of loss, equal to VND760 billion.
"At the issuance time, many experts said SSI was one of the good stocks in long term. No individual or institutional investors at that time expected the market would bearish too long," a director of a HCMC-based brokerage said.
He noticed that bond holders could opt for taking back their capital with interest rate as the share price dropped too much.
"However, that may be not an appropriate option for strategic partners including Japan-based Daiwa Securities Group Inc., who holding large amounts of SSI stakes. Thus, investors fearing of a massive sell-offs of shares from the VND2-trillion convertible bonds can be at ease," he said.
Japan's leading securities firm bought one million shares worth about $10.9 million, according to SSI. The HCMC-based brokerage said in a statement published by the Hanoi Securities Trading Center it sold the shares, which represent a stake of about 1.25 percent, for VND175,100 ($11) each, a 9.4 percent premium.
Analysts said SSI convertible bonds showed the market prediction ability of big institutional investors and investment funds remained low.