The local stock market is likely to remain volatile this week, given rise to profit-taking pressures, while the benchmark VN-Index is approaching the short-term peak of 680 points, analysts have said.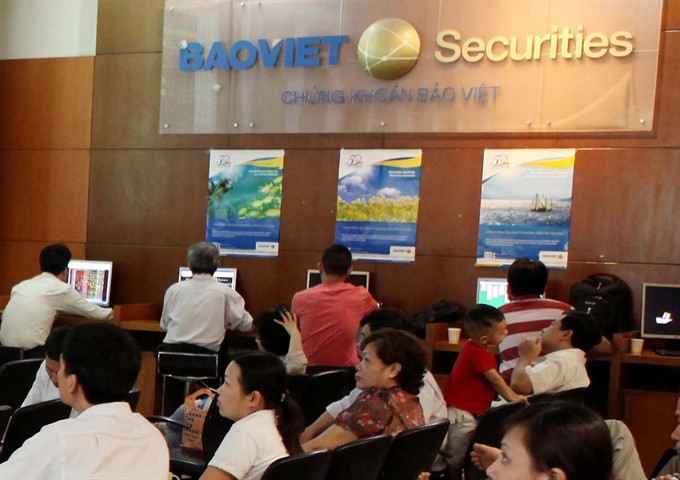 Photo shows a trading session at Bảo Việt Securities Co (BVSC). (Photo: VNA/VNS)
"The VN-Index is forecast to continue to move up and down around 660 to 680 points in the short term," Trần Xuân Bách, a stock analyst at Bảo Việt Securities Co, wrote in a report. He mentioned that profit-taking pressures could build to 680 points.
On the HCM Stock Exchange, the VN-Index rose 0.2 per cent after four sessions last week, ending Thursday at 669.2 points. It had climbed over 674 points on Wednesday, before being pushed down under heavy profit-taking selling pressures.
The Index increased 3.2 percent in the past month, and up 15.6 percent since the beginning of this year.
On the smaller exchange in Hà Nội, the HNX-Index inched up 0.1 percent for the week, closing Thursday's session at 84 points. It gained over 5 percent for the year.
The drivers of the market last week were large-cap stocks. Their up-and-down movements, particularly the Big Ten (10 largest stocks by market capitalisation), heavily affected the indices.
Shares of dairy firm Vinamilk (VNM), the largest listed stock, gained 5.5 percent in value last week, following the information that its shares would be added in the FTSE Vietnam Index, managed by London-based FTSE Group.
On Friday, when the local stock market was closed on National Independence Day, FTSE announced that it had decided to add shares of Vinmilk and steelmaker Hoa Sen Group (HSG) in the FTSE Vietnam Index to its third-quarter review, which comprises listed companies that have sufficient foreign ownership availability and meet specified liquidity requirements.
Market capitalisation of FTSE Vietnam Index was valued at some US$5.5 billion, as of August 29, 2016.
Hoa Sen Group also increased 4 percent for the week.
On the other end of the spectrum, shares of Vietcombank (VCB) sold heavily, pushing its prices down 8.7 percent last week.
According to analysts at Sài Gòn-Hà Nội Securities Co (SHS), this slump could be attributed to information that the Singapore sovereign fund GIC would only pay some $400 million, for a 7.7 percent stake in Vietcombank, a discount from the current market price.
Shares of Vietcombank has climbed nearly 20 percent this year.
Foreign investors continued their net selling streak to three consecutive weeks, responsible for a net sell value of nearly VND188 billion in the two markets. Their total net sells reached VND1.43 trillion in the last three weeks.
Their selling focused on large-cap stocks, such as Vietcombank and Vinamilk, which weighed on the Index.
VN-Index needed to accumulate more value before conquering its old peak of 675-680 points, SHS analysts wrote in a note.
"In the short term, investors would likely pay attention to those stocks which receive support information from macroeconomic factors, or investments such as the sales of State holdings or exchange-traded funds," they said.