Ho Chi Minh City stocks lost ground on February 2, with investors not appearing eager to return to the market after the longish lunar New Year break.
The benchmark VN-Index slumped below the long-time support level of 300, losing 5.69 points, or 1.88 percent, to close at 297.52.
Trading on the country's main bourse remained subdued, with just 5 million shares worth VND147 billion being traded. Of the index's 176 members, 43 advanced and 108 declined.
Analysts said people are still waiting for companies' earnings results before making investment decisions.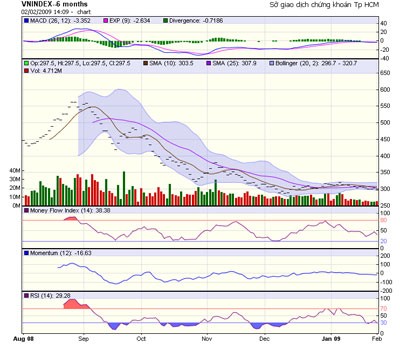 Source: Ho Chi Minh Stock Exchange
But they said investors should start buying now since the market is likely to recover in the second half of the year.
Oil drilling firm PV Drilling (PVD) fell VND1,500, or 2.08 percent, to close at VND70,500. The company said on the exchange's website that Ho Thi Thanh, wife of its general director, sold 50,000 shares to cut her holding to 16,240.
Software developer FPT Corp. (FPT) lost VND2,000, or 3.96 percent, to finish at VND48,500. The Hanoi-based firm said Nguyen Diep Tung, a director, has registered to sell 440,000 shares to cut his stake to 1.8 million shares.
Lam Son Sugar Joint Stock Corporation (LSS) was also among today's losers, slipping VND300 to close at VND13,700. Chairman Le Van Tam raised his stake from 7.17 percent to 7.83 percent by buying 200,000 shares, according to a report on the exchange's website.
Tan Dai Hung Plastic Joint Stock Company (TPC) edged up VND100 to VND7,600. The plastic producer announced that it has bought back 407,640 shares out of 500,000 it has registered to buy.
Minh Phu Seafood Corporation (MPC) gave up VND700, or 4.67 percent, to fall to VND14,300. Chairman Nguyen Van Thanh registered to purchase 10,000 shares to boost his holding to 33,375 shares before March 2, the bourse said.
The smaller exchange in Hanoi also plunged into negative territory, with the HaSTC-Index losing 1.29 points, or 1.29 percent, to close at 98.64.