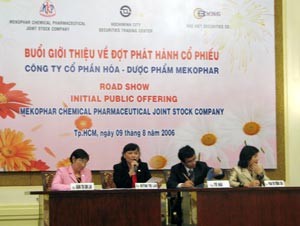 The MKP's board of directors introduced its shares in HCMC some days before the roadshow in Ha Noi. (Photo: T.C)
Late last week, the Mekophar Chemical Pharmaceutical Joint-stock Company (MKP) introduced investing opportunities into its shares to domestic and foreign investors in Ho Chi Minh City and Ha Noi. The company plans to sell 600,000 shares starting at VND 50,000/share, and its shares have caught big attention from many investors.
MKP ranks third in terms of pharmaceutical sales in Viet Nam, holding 7% of the market. The firm is also the third largest exporter among domestic producers. MKP owns many strong brands with 200 kinds of products including antibiotics, antipyretics, anti-infections, specific remedies and tonic medicines.
In particular, MKP is the only company in Viet Nam capable of manufacturing antibiotic materials of ampicilin and amoxicilin.
In 2005, MKP reached VND 336 billion in gross revenue. The firm also exported US$ 2.7 million worth of medicine. Earnings before tax reached VND 43.6 billion, increasing by 48.9% over 2004. The company promises to maintain the minimum dividend rate of 18% in 2006 – 2007.
Institutional investors and foreign investment funds are likely to come up with high bidding price for MKP shares, said analysts.
Related Articles:
Pharmaceutical Shares Are Welcome