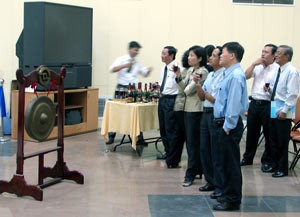 Steering committee of TTC and HSTC in the first session of TTC stock. (Photo: T.C)
The Ho Chi Minh City Securities Trading Center (HSTC) welcomed its 47th stock of the Thanh Thanh Glazed Tile Joint-stock Company (TTC) and its VND 40 billion chartered capital.
TTC priced at VND 19,000 in its first session, a relatively low price compared to its VND 22,000 – 25,000 range previously traded on the OTC market.
The company's largest shareholder is the Viet Nam state-owned Building Materials Corporation No. 1 (FICO), owning 2.04 million TTC shares (51%).The company has already export market shares in Thailand, Cambodia, Sri Lanka, South Korea, Pakistan and other countries. This is the third company listed in the brick industry after the Chang Yih Ceramic Company and the Nhi Hiep Brick-Tile Company.
As TTC listed on August 8, the market surged with demand from international investors as some listed companies revised their issuance plans. The exchange's selling volume reached 2 million shares in the session, decreasing 59% from the day before. The day's total trading volume reached 1.33 million shares as 30 stocks ascended significantly.