Viet Nam has been more attractive to foreign investors since the birth of the two stock exchanges: Ho Chi Minh City Securities Trading Center and Hanoi Securities Trading Center together with its rapid economic growth and stability. In three recent years, thirteen foreign funds were founded in Viet Nam with the total size of US$908 million, raising the total value of foreign indirect investment (FII) to US$1.1 billion. Although the growth has been significant, FII only accounts for two percent -a small share in GDP and equals to 11.7 percent of foreign direct investment (FDI) in 2005.
The Viet Nam's stock market attract foreign investment. (By T.C)
Before the 1997 Crisis
In fact, there was a flow of FII in Viet Nam in the early 1990s when the country began to adopt the Open Door policy and issued its Foreign Investment Law for the first time.
In these years, seven funds were founded and mobilized US$ 400 million. The Vietnam Fund (VF) was the first to participate in the Vietnamese capital market with US$ 54 million under its management. The last fund to be founded in this period was the Vietnam Enterprise Investment Fund (VEIL), managed by Dragon Capital Management Limited, with US$ 35 million. The Templeton Vietnam Opportunities Fund was the biggest, founded by US-based Templeton Investment Management Pte. Ltd. in September 1994, right before the US-Vietnam Bilateral Trade Agreement were signed.
After the regional financial crisis in 1997, Templeton Vietnam and the Vietnam Lazard Fund withdrew while the Vietnam Investment Fund (VIF) and Beta Fund went on but were reduced to 5-10% compared to their initial size. Only three funds were still in operation after the crisis: the Vietnam Fund, the Vietnam Frontier Fund (VFF), and VEIL. VF and VFF withdrew in 2001 and 2004 respectively.
A new wave of FII
Four years after the crisis, Viet Nam was seen as one of the least-hit country, but the rise of FII was not satisfactory. In 1998-2002, no new investment fund was founded and, to be worse, some existing funds were liquidated or reduced in size.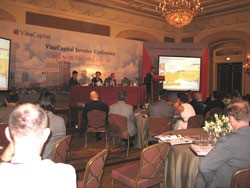 A Investor Conference had predict a new wave of FII. (Photo: T.C)
Not until April 2002 did a new wave of FII reappear with the establishment of the Mekong Enterprise Fund (MEF) with its initial size of US$18.5 million, run by Mekong Capital Limited.
Since 2004, a new chapter for FII has come. There have been thirteen foreign funds established in Viet Nam with the total size of US$ 908 million, boosting the total value of FII to US$ 1.1 billion. A booming period of investment funds in quality and quantity has begun.
Those achievements all result from many important reforms in economic management by the government. Among them are the increasing from 30 percent to 49 percent in foreign-invested porfolio capital, the enhancement of the equitization process of big state-owned enterprises.
Moreover, Viet Nam has recently enjoyed a rapid economic growth at the average of 7.5 percent per year. Viet Nam's credit rating by Moody's Institution has been improved from B3 to B1, making the country more attractive for investment. A wave of foreign investment moving into Viet Nam is real.
Viet Nam's financial market is coming into a new period with stronger and more sustainable growth with the contribution of FII and professional investment institutions.