Surging petroleum share prices pushed the VN-Index up 8.45 points to close at 919.6 this morning, at last.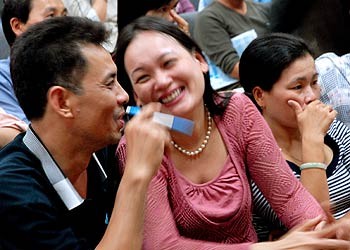 Investors rejoice that the stock market has gained a bit (Photo: Hoang Ha/VnExpress)
In the local financial markets' northern hinterlands, the HASTC-Index also gained, a slight 0.47 points to end at 318.95.
Balance beset gainers and losers, 51 and 53 respectively. Among gainers: blue chips like FPT Corporation (FPT), Hoa Phat Group (HPG), Vinamilk (VNM), Pha Lai Thermal Power (PPC), Tan Tao Industrial Zone (ITA), Vincom (VIC), Saigon Cables & Telecommunication Materials (SAM), and Schenker-Gemadept Logistics (GMD).
But, again, today was a good one for petroleum stocks. Phu My Fertilizer and Chemicals (DPM) rose VND2,500 on over 1.04 million shares traded at a value of over VND75 billion. Others: Petro Vietnam Drilling and Well Services (PVD), PetroVietnam Tourism and Service (PET), Petrolimex Gas (PGC) and newcomer PetroVietnam Transport (PVT).
On the flip side, plastic, seafood and pharmaceutical shares slipped and slid further into the financial abyss, metaphorically speaking.
Financials like Sacombank (STB), Asia Commercial Bank (ACB), Saigon Securities (SSI) and Bao Minh Insurance (BMI) were stagnant, though ever hopeful investors forecast the money crowd is likely to lead the market up in coming days.