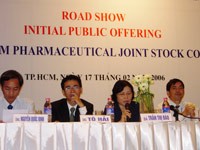 Strategic commitee of Imexpharm in the road show before the auction sale (Photo: T.C.)
Last month, 402 investors competed for 600 thousand shares of Imexpharm Pharmaceutical Company in the auction held at Ho Chi Minh City Securities Trading Center. The average final price was 2.44 times greater than the starting price.
Imexpharm's main business is manufacturing and trading medicine, pharmaceutical materials and medical equipment. This is the company's second share issue to raise capital for the Imex Milk factory and business expansion. Previously, Imexpharm made a 2 million shares private offer to its strategic partners.
The shares were worth VND6 billion in book value, equivalent to 13.64% of the company's equity. As the demand exceeds 5.64 million shares, 9 times higher than the number of share offered, the share price skyrocketed. In the auction, some investors placed their bid at 1,000 times higher than the starting price of VND37,000 per share, pushing the final average price over triple the starting price.
It is understood that this stock issue is a part of the company's strategic plan to have its stock listed in 2006.
Company's name: Imexpharm Pharmaceutical Company
Auction method: through Ho Chi Minh City Securities Trading Center
Auction place: 45-46 Ben Chuong Duong Street 1st District, Ho Chi Minh City
Total volume of share offered: 600,000 shares
Starting price: VND 37,000 per share
Bidding volume: 5,640,650 shares
 - Institutional investors: 3,067,300 shares
 - Individual investors: 2,573.350 shares
Highest match price: 38,000,000 dong per share
Lowest match price: 62,100 per share
Average match price: 126,597 per share
Traded shares: 600,000 shares
Total value: VND75,958,150,000