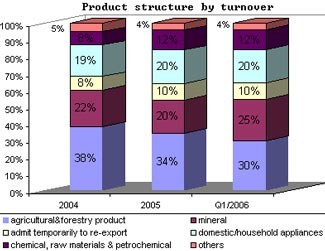 Product structure by turnover of Pitco. (Source: SSI)
Petrolimex International Trading Joint-stock Company (Pitco), which has the chartered capital of VND 60 billion, announced the sale of 29% state-owned shares to the public.
Pitco is a member of the Viet Nam Oil & Gas Corporation (Petrolimex) and one of the ten leading export enterprises in Viet Nam.
According to the company's consultant, the Sai Gon Securities Incorporation (SSI), 174,000 Pitco shares (VND 100,000/share of par value) will be offered at a relatively low starting price, VND 125,000 per share.
This issuance is a part of the plan to mobilize capital for Petrolimex's paint factory, a move to diversify the company's businesses as it will not be allowed to maintain its oil & gas monopoly in the future.
Related Articles:
5 Month Revenue Reached US$ 4.2 Billion: Viet Nam's Oil Industry
Petrolimex Gas' IPO Sees Record Of Participants