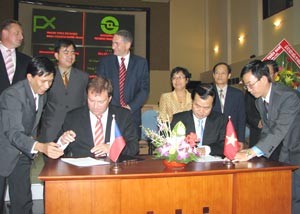 The CEO of Prague Stock Exchange Petr Koblic (left) and the CEO of HSTC Tran Dac Sinh sign the MoU between the two bourses. (Photo: T.C)
On Monday October 2, the signing ceremony of memorandum of understanding (MoU) between the Ho Chi Minh City Securities Trading Center (HSTC) and the Prague Stock Exchange was organized to aim at increasing cooperation in areas relating to the exchange of expertise and information about trading systems and substructures.
According the MoU, both parties will exchange issuers' information, consult on the possible creation of indexes covering respective markets and trading of derivative instruments based on such indexes. Beside, the Prague Stock Exchange also acts in a reasonable manner as a contact point for the HSTC in EU.
Chairman and CEO of the Prague Stock Exchange Petr Koblic highly appreciates the economic development of Viet Nam and believes the market will attract more institutions from his country. "PPF, one of the leading financial groups in Czech Republic, joining Viet Nam is an evidence", he added.
Prague Stock Exchange is a major stock market operator in the Czech Republic. In 2001, the exchange was admitted as an associate member to the Federation of European Securities Exchanges (FESE) and enlisted as a reliable foreign stock exchange by the US Securities and Exchange Commission (US SEC) in two years ago.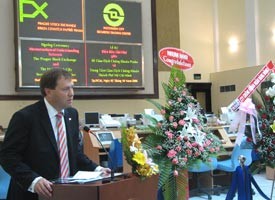 The chairman and CEO of Prague Stock Exchange Petr Koblic highly appreciates the development and opportunities of Vietnamese stock market. (Photo: T.C)
"Viet Nam is an emerging market and there's a lot to accomplish on the road ahead. Therefore, the cooperative assistance from the Prague Stock Exchange will be an important source of encouragement that we highly appreciate", CEO of HSTC Tran Dac Sinh said.
HSTC was launched in July 2000 in the economic and financial hub of Viet Nam. It has 49 listed companies with the total market capitalization of US$3.2 billion, 15 brokerage members and about 70,000 investors with the average daily turnover of US$6 million.
"Market capitalization by 2010 is expected to account for at least 15% of Viet Nam's GDP. Moreover, the center will be transformed into a formal stock exchange from 2007 and gradually diversify its ownership to achieve more efficient performance and better meet the expanding market needs", Mr. Sinh added.
Related Articles:
Czech Republic, Viet Nam Expand Ties
PPF Enters the Vietnamese Market