The Prudential Vietnam Fund Management Company (PVFMC) said it will float the Prudential Balanced Fund (PRUBF1) within 90 days.
After the fund closes on August 8, PVFMC and the fund's monitoring bank – the Hong Kong and Shanghai Banking Corporation Limited (HSBC), HCMC Branch – will hold the first shareholders' meeting and carry on the necessary procedures to finalize the application for operation and listing.
According to the fund's regulation, the shareholders' meeting will be held within 30 days from the closing of the fund.
Within 30 working days as of the first shareholders' meeting, PVFMC will have to send application to register the founding of the public investment fund and list its fund certificates.
The State Securities Commission (SSC) will approve the fund and the listing application in 30 days after receiving the complete legal application.
The PVFMC representative said the company will try to shorten the procedure in order to bring the fund to the market.
It is known that 50 million of PRUBF1 fund certificates, each with the par value of VND 10,000, have been officially issued since July 24, at the price of VND 10,300 each (3% premium comes from issuing cost). PRUBF1 has the term of 7 years with the initial size of VND 500 billion.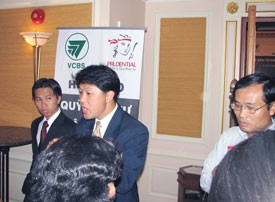 Manager of PRUBF1 Andy Ho says the fund is suitable for investors who accept an average risk and medium- to long-run investment. (Photo:T.C)
The fund intends to put 30% - 100% of its investment into debt instruments such as government bonds, municipal bonds, and corporate bonds and in bank accounts. 0% - 70% of its net asset value will be invested in listed stocks and OTC stocks.
PRUBF1's managing Andy Ho said the fund might lean toward bond investment at the ratio of 70/30 but will be flexible according to the fluctuations of the market, suitable for fund holders who accept an average risk, and medium- to long-run investment.
While domestic experienced investors don't regard the fund highly because of its bond-investing tendency, PRUBF1 receives good responses from some international institutions, which want to buy the fund at the maximum stake (2,500,000 fund certificates).
Related Articles:
Sacombank to Delay Share Sale In 2006
Foreign Investment Funds Boost Demand of Stock Market
Vietnamese Stock Market: Stocks Sank Dramatically
VF1 To Expand Chartered Capital To VND 500 Billion
Life Insurance in Viet Nam