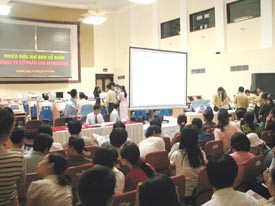 Gas Petrolimex had attracted a record high of participants. (Photo: T.C)
The total subscribing volume of the Petroleum Technical Services Joint-stock Company (PTSC) has reached 220.31 million shares, 5.9 times greater the total share available, setting a new record for the registered buying volume at a share auction.
Meanwhile, with 3,940 investors on registration, PTSC has also set another record for the most participants in a share sale, leaving behind the previous record set by Gas Petrolimex (2,176 investors).
Such impressive figures demonstrate the attractiveness of the petroleum industry and determine the competitiveness of the upcoming auction of PTSC shares to be held on August 28.
PTSC, which is a member of PetroVietnam (the Vietnam Oil and Gas Corporation), has the chartered capital of VND1,000 billion (about US$62.47 million) and generates over VND2,300 billion in revenues annually. Operating in the oil industry with the return-on-equity (ROE) of 20%, PTSC is one of the state-run enterprises which caught the attention of foreign and domestic investors, since it began the equitization process, besides VMS Mobifone from the telecom industry.
In this initial public offering (IPO), PTSC auctions 37,298,700 shares at the opening price at VND10,500 each.
Related Articles:
Honeywell to Supply Process Controls for VN's Oil Refinery
Pitco to Reduce State-Own Stake
Petrolimex Gas' IPO Sees Record of Participants