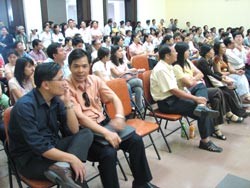 Public auction attracts more and more attention of investors. (Photo: T.C)
The initial public offering (IPO) of Petroleum Technical Services Company (PTSC), held earlier this week in the Ha Noi Securities Trading Center (HASTC) and Ho Chi Minh City Securities Trading Center (HSTC), is one of the auctions that caught great attention from the investing public recently as it set several new records and mobilized nearly VND1.4 trillion (about US$87.46 million).
37,298,700 shares were offered, the third highest volume in an auction via the securities centers after the share sales of the Vinh Son – Song Hinh Hydro Power and the Pha Lai Thermal Power.
PTSC's share in the sale was VND372.98 billion in par value (37.3% of PTSC estimated chartered capital) but the subscription volume surprised regulators as it reached 220.32 million shares, nearly 6 times greater than the total shares available. This was also the highest ever subscription volume in a share auction.
Meanwhile, there was also a new record of 3,940 participants in the auction.
In the auction, the highest bid was VND50,000/share, and the lowest bid was VND10,500/share. One investor, in particularly, subscribed to buy 7 million shares. The auction ended with the lowest bid being VND36,100/share, and the average price VND37.256/share, 3.54 times greater than the initial price.
The total value shares sold for VND1,398.6 billion, VND1,016.6 billion higher than the share's par value and VND997.97 billion higher than the initial price.
It can be said that the PTSC's IPO, which had the participation of many investors, demonstrates that share auction via the bourses attracts more and more attention of the population, and is able to mobilize great amount of idle capital from the public and international investors.
Related Articles:
Thac Ba Hydro Power Hits the Ha Noi Exchange
The Market Will Be Livelier
PTSC Sets Record for Registered Buying Volume
Foreign Investors Win Big on Pharmaceutical Shares
Vinh Son – Song Hinh Hydro Power Valued Roughly at VND 4,400 Billion
Pha Lai - Biggest Company on the Stock Market