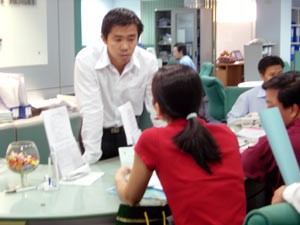 Investors need brokers to play a consultative role for them. (Photo:T.C)
Although stocks have fallen rapidly since May and many trading floor are deserted, applications to open securities firms are continuously sent to the State Securities Commission (SSC). By the end of 2006, the country is expected to have more than 20 companies participating in this new kind of business.
Rushing to apply
The Dai Viet Securities Company has got a nod to open with the chartered capital of VND 10 billion. The Viet Nam International Commercial Joint-stock Bank (VIBank) has also received the license and is preparing to start its securities subsidiary. The Viet Nam Export-Import Commercial Joint-stock Bank (Eximbank) is finalizing the application process and there are 5 or 6 similar applications are being considered by SSC.
According to analysts, institutions, which want to open securities firms, rush to have the license before January 1 2007, the time that the Securities Law comes into effect.
The future minimum requirements of capital corresponding to each service will be much higher than the current.  For instance, in order to provide the brokerage service, a firm must have the minimum capital of VND 10 billion instead of VND 3 billion as it is currently required. The requirement for providing underwriting service will be VND 70 billion instead of VND 22 billion.
The growth potential is also the attraction. Last year, all of the 14 securities firms made profit. Such firms as the Sai Gon Securities Inc. (SSI), Bao Viet Securities (BVSC), or ACB Securities (ACBS) had the earnings of over 30%.
Quantity or quality?
Comparing the number of 20 securities firms to just 70 listed enterprises by 2007, many analysts are worried.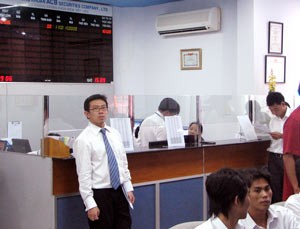 Viet Nam will open the financial service market for foreign investors to set up securities firm. (Photo:T.C)
Amongst the 14 securities firms in operation, only 5 have the necessary financial ability to cover the market. The remaining only focus on some small and retail services, said Dominic Scriven, Managing Director of Dragon Capital (British). Investors are placing their orders based on their own analysis and watching the price fluctuation during trading sessions.
"The current rush to open securities firms is based on bandwagon effect and lacks profound thinking," Scriven added.
Having the plan to open securities firm for a while, Eximbank is struggling to find capable staff. Securities graduates are scarce, said Nguyen Gia Dinh, the firm's director. Even amongst graduates, not many can are qualified for the job.
An official from SSC, seeming to oppose the rush, said that SSC could not turn down applications which meet the requirements. When the Securities Law comes into effect, firms will have one or two years to raise their chartered capital corresponding to the new regulations. Their licenses will be revoked if they fail to do so.
Another matter this official is concerning is the fierce competition after Viet Nam's WTO accession. As agreed with the US in opening the financial service market, Viet Nam will have to allow foreign investors to set up joint venture securities firms and hold up to 49% stake of those firms.
Five years after Viet Nam joins WTO, foreign investors will be able to found 100% foreign invested securities firms providing such services as asset management, consulting and liquidity services.

Related Articles:
Viet Nam Securities Depository Opens
Viet Nam Dragon Fund Buys More of CII
International competition: What Local Banks Need to Do to Navigate Choppy Waters
Eximbank to Issue VND 400 Billion Worth of Share
Laws on Securities, Lawyers and Legal Support Validated
Forming a Transparent Finance – Banking System and Coming Closer to the Stock Market