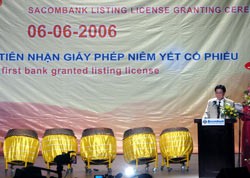 Sacombank listing license granting ceremony is hold on June 6, Two month later the bank asked SSC for approval to delay its issuance (Photo: T.C)
The Board of Directors of Sai Gon Thuong Tin Commercial Joint-stock Bank (Sacombank) has just asked the State Securities Commission (SSC) for approval to delay its issuance of 30 million shares in 2006.
Sacombank said that it is not an appropriate time for the 30,052,701 share sale as the supply of the stock market skyrockets while the investing demand cannot match, causing the price to drop sharply.
Therefore, after the announcement of delaying the 20 million shares public auction in the end of July to find a viable solution, Sacombank decides not to pressure the supply and waits for a better market condition.
STB share of Sacombank, in August 7 trading session, closed at VND 61,500/shares, dropping by 10.21% compared to its price when announcing the public auction delay and by 24.53% over its peak in middle July.
In 2007, if Sacombank feels the time is right, corresponding with its need to raise capital, it will seek approval from shareholders and will apply its issuing plan to SSC.
If SSC approves the delay, the bank will carry on the shareholders' opinion seeking, from the shareholders list finalized in August 4, and officially announce the delay.
The issuance of 10% bonus shares for existing shareholders in 2006 will be conducted as planned.
Related Articles:
Sacombank To Delay Its Issuance of 20 Million Shares
Vietnamese Stock Market: Stocks Sank Dramatically
Sacombank Can Buyback 30% Of Its Share
Sacombank's Share Makes Debut in HCMC Bourse