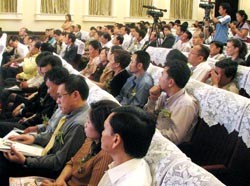 More investors are interested in banking stocks. (Photo: T.C)
In the afternoon of June 27, at the New World Hotel – Ho Chi Minh City, the Sai Gon Thuong Tin Commercial Joint-stock Bank (Sacombank) organized a road show to officially present investment opportunities of its stock to the public.
Besides the announcement of the listing of 189.9 million of shares and the issuance of another 30 million shares via auction sale, Sacombank also helped investors in custody and trading procedures on the stock market and replied to investors' inquiries.
As the first commercial bank in Viet Nam to go public, Sacombank will take care of the stock's liquidity, protect it from crisis and aim toward stable trading as other listed stocks, Sacombank's chairman Dang Van Thanh said at the meeting.
The General Director of London-based Dragon Capital said, in almost every economy, banks are always the greatest enterprises in size and transparency, and Viet Nam is of no exception. Foreign institutions and investors always pay special attention to the banking industry; therefore, the listing of Sacombank has a significant impact on the whole system of commercial joint-stock banks.
According to the bank prospectus summarization, to April 15, 2006, there have been 4 institutions that are holding more than 5% of the bank's share, including ANZ Banking Group (9.87%), Dragon Capital Holdings (8,77%), World Bank's International Finance Corporation (7.66%), and Refrigeration Electrical Engineering Corporation - REE (5.71%).
Related Articles:
Sacombank Offers 30 Million Shares To Public
The Banking Industry on the Eve of WTO Accession: Forming a Transparent Finance – Banking System and Coming Closer to the Stock Market
Sacombank Receives Listing License
Viet Nam Dragon Fund Buying in GIL and TMS