The State Capital Investment Corp. (SCIC), the Vietnamese government's investment arm, will rely on the stock market's move to set up process of the divestments from 420 enterprises in 2011 and 2012, says the corporation's official.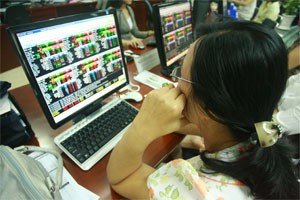 SCIC says it will continue to make divestments, but not sell off shares at any cost (Photo: Minh Tri)
"We do not make divestments at any cost, but we wait for the market's move," Le Song Lai, deputy general director of SCIC says in an interview with Dau Tu Tai Chinh Newspaper.
"To attract buyers, we will beef up the announcement about the sales and diversify the process of the divestments. We will also cooperate with relevant agencies to sort out problems, which arise from regulations on the divestments."
The corporation will rely on the stock market's move to opt for the date of the sales in an effort to optimize the divestment's value, Lai says.
He also notices that the economic meltdown combined with a prolonged bear market result in bad impacts on businesses' equitization plan.
"In 2010, nearly 80 enterprises failed to sell shares in their initial public offering, of which more than half had to hold auctions again with lower starting price," Lai says.
"The equitization was also hindered by some issues of regulations on business valuation and divestments from some firm in public service, forestry and agriculture sectors."
Enterprises in some provinces have not cooperated with SCIC or even asked the corporation to halt the divestments since they did not acknowledge the government's regulation on state-owned companies, he says.
A decree approved by Prime Minister in March states that the government will hold 100 percent charter capital or majority shareholding in enterprises in sectors related to national security and safety, protection of national natural resources and several other critical areas.
"The divestment also puts officials representing the state's holding in difficult situations," Lai adds.
SCIC's deputy general director says the corporation will continue to beef up divestment from enterprises in an effort to optimize the government's investments in crucial sectors.
Statistics show that SCIC sold its stakes in 512 enterprises for nearly VND2.8 trillion (US$140 million) at the end of June.
The amount shows that the corporation sold shares at a price that was more than double time higher than the face value of VND10,000 per share.
SCIC also plans to divest from 420 companies in 2011 and 2012. Most of them are small- and medium-sized enterprises in various sectors including consultancy, construction, transportation and food.
The funds raised from the divestment will be allocated to crucial investment projects in key sectors in accordance with the Prime Minister's instruction.