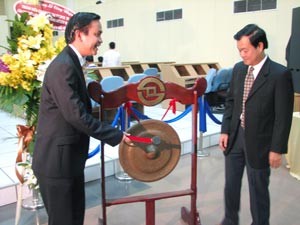 Director of Sacombank Securities (L) in the open ceremony at the floor of Ho Chi Minh City Securities Trading Center. (Photo: T.C)
On October 20, the second largest local securities company, Sacombank Securities Company (SBS), was launched in Ho Chi Minh City, officially becoming the 16th member of the Ho Chi Minh City Securities Trading Center.
SBS is a subsidiary of the Saigon Thuong Tin Commercial Bank (Sacombank) with the chartered capital of VND300 billion (US$18.7 million). The biggest securities firm is the Sai Gon Securities Incorporation with the chartered capital of VND500 billion (US$31.2 million).
SBS provides brokerage services, repurchase agreements (repo), cash advance and the special securities pledging service with the property or unlisted stock for mortgage asset. This is the first pledging service in the market and SBS can make the new run in securities services.
The securities company's operation will help Sacombank become a powerful financial group in Viet Nam, said the bank's representative.
Dang Van Thanh, Chairman of Sacombank, said, "Sacombank wants to set up a joint venture fund named Viet Nam Fund Management Co. but the plan is halted as the bank is focusing on its securities firm development. SBS has also committed to the development of a sound and sustainable capital market in Viet Nam".
In its long-term strategy, except its venture fund, the bank will establish a financial leasing company named Sacombank Leasing Co., and a firm named Asset Management Co. (AMC) by cooperating with banks and insurance firms, real estate and tourism companies.
With the newly-established securities company, the STB share of Sacombank in Viet Nam's stock market has upped to VND63,000 per share, increasing VND500. It helps the VN-Index to close with a slight increase of 3.83 points (0.73%) to 528.42 points.
Related Articles:
Buying into the Banking Boom
First Malaysian Business Enterprise Lists on HCMC Bourse
Ho Chi Minh City Bourse Welcomes New Member