Many major shareholders of listed companies easily manipulated the stock market since they knew sentiment of individual investors was always being effected by their moves.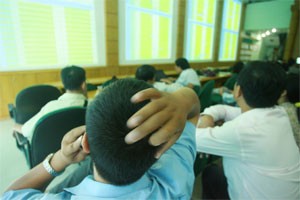 Rumors control the tides on the Vietnamese stock market as listed firms fail to acknowledge gossip and deny investors easy access to information (Photo:Minh Tri)
Brokers said an investment fund started to dump shares in a listed company with large capitalization on the Ho Chi Minh Stock Exchange in the second quarter last year, making many small-time investors follow the move.
They were anxious on the fact that the share price would plummet due to the sell-off. The fund later bought back strongly as the share price rallied after making some corrections, leaving many individual investors bitterly regretting.
"It is the information about share purchases of general directors or chairman of a listed company, which will make great impacts to individual investors' confident, not the firm's financial results," said a veteran broker of a HCMC-based brokerage.
"When a strategic partner of a listed firm announces it will sell shares, investors will strongly believe it conflicts with the enterprise's leaders or 'get bored' of the company. Thus, they will sell the shares too.
"However, they will be eager to buy back strongly on the news that the firm's chairman or general directors will buy shares. And that affects the share price."
Nguyen Xuan Dung, a stock market investor at the Artisan Emerging Markets Fund (Artex) Securities, said rumors put investors in a vulnerable paradox.
"It's bad to ignore the trends. But then again, if you follow the trends, it can also be bad once in a while."
Dung said stock market rumors sometimes opened good investment opportunities, but they also often forced investors to "swallow a bitter pill without having anyone to blame."
Many recent rumors have heated sentiment on the Vietnamese exchanges as they have often targeted companies that generate healthy earnings, attract foreign investors, and have high liquidity.
An experienced investors in HCMC, who wanted to be unnamed, disclosed that he witnessed a member of the board of directors of a listed property firm manipulated his company's share price.
"In 2009, many investors bought the stock strongly as it increased for many trading session. A member of the firm's board of directors had a group of brokers trade stocks for him," the investor recalled.
"He asked the brokers to constantly place buying orders with large volumes as the share price made correction, making them believe the stock would rally soon. Thus, the group of brokers also encouraged their friends to buy the stock strongly.
"The stock eventually dropped sharply due to a large sell-off after regaining some grounds, leaving those who followed the man's moves suffering heavy losses."
Brokers also disclosed a few of directors of listed firms with strong financial base set up companies in order to manipulate their own stocks.
"Rumors control the tides on the Vietnamese stock market as listed firms fail to acknowledge gossip and deny investors easy access to information" said an industry insiders said.