April 25, the VN-Index continues to rally since it went over its previous record in 2001 to 632.69 pts.
The stock market has reached its all time high in every aspect from the number of investors, number of stocks listed, and trading volume, to market capitalization.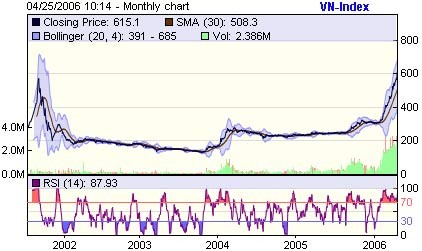 The VN-Index Chart in July 2000 to April 2006
Stock booming and another "generation" of investors
This dramatic boom has given rise to many different viewpoints.
Some fear for the stability of the market, even warn about a "bubble burst".
Some are excited with the new step forward of the market, having left its cloudy years behind. Where does the truth lie and what has really energized the boom?
In fact, 2005 is a winning year of stock investors.
While the savings interest barely beat inflation, the real estate marked froze, and start-ups demanded more and more resources, stock investments easily earned the returns of 30%.
Many blue-chip stocks such as REE and SAM came to their record high, resulted in black bottom line for everyone.
Such "successful stories" have not been missed in friends and relatives get-togethers everywhere. Thus, a wave of brand new investors and brand new money has added up to the demand since early February.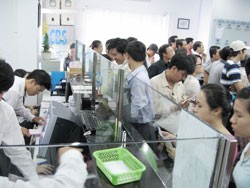 New "generation" of investors are inexperienced but can make the market so hot.(Photo: TC)
To the end of March, there were approximately 60,000 active investors, an increase of 100% since the beginning of the year.
Beside nearly 1,000 institutional investors, the remaining were individual investors who often lacked experience and knowledge. A half of these have been investing in stock no more than 3 months and never gone through any downturns. Ironically, it is them who are now enjoying the most robust returns.
The market has grown 85% within 3 months. Many veteran investors have sold all of their stocks and withdrew as their expectation has been met. However, the "new" investors have not been bothered by this and continued to pressure the prices up and, therefore, everyone gained.
According to a "brand new" investor, "Any stock can make you win, any. Just ask people around here, no one loses, just wins!"
Are the prices already too high?
There has been an 85% increase in prices. However, it should be taken into consideration that Viet Nam stock market started from very low level. The prices have remained low throughout 2001-2004, and just went up by 30% in 2005.
Some veteran listed stocks like REE or SAM just went over their 2001 top but these companies of 5 years ago are nowhere near what they are now, as revenue and profit have multiplied.
For instance, REE's earnings before tax was only VND 50 billion in 2001 compared with VND 140 billion of projected earning in 2006. Now, Q1 alone has accounted for VND 108 billion.
These companies, considered as "treasure" of Vietnamese stock market, are also strong and popular enough to list overseas. Their current prices, according to some seasoned investors, are still reasonable compared with foreign markets.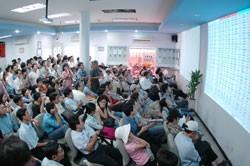 Investors follow Vn-Index at ACB Securities Company on April 24 (Photo: VD)
Otherwise, the average P/E sways between 26 times, not yet reaches the red hot 35-40 times. Some foreign funds still buy some more of these selected stocks...
Nevertheless, these "quality" stocks have somewhat discouraged new investors by their "high" prices so they have turned their focus to "low price" stocks.
Those struggling shares with persisting loss-making problem are suddenly bought with high volume because it is only VND 15,000 – 20,000 per share.
This reckless buying raises many concerns as what goes up must come down sooner or later and new investors have no experience of that. Nobody really knows what they are doing and it's really a cause for concern.
Under such circumstances, many seasoned investors have sold some of their small cap shares and concentrate on holding some quality shares, which are also favorites of foreign funds.
For this group of investors, this is an opportunity to sell some to make profit and reduce mortgage loans, "Although the market has not yet reached its peak and selling out quality stocks seems to be too early", an investor said.
Related Articles:
VN-Index rallied Over 600 Points
Vietnamese Listed Companies' P/Es Double Up
In the Fever of Viet Nam's Stock Market: Total Trading Volume Sets New Record
A Tour of Annual Shareholder Meetings: Investors Excited About Development Policies
Viet Nam' Stock Market Is the Second-Fastest Growing: CNN