Vietnamese shares yesterday remained upbeat for a fourth session as investor confidence was bolstered by the decisions of US and Japan's central banks to keep interest rates flat.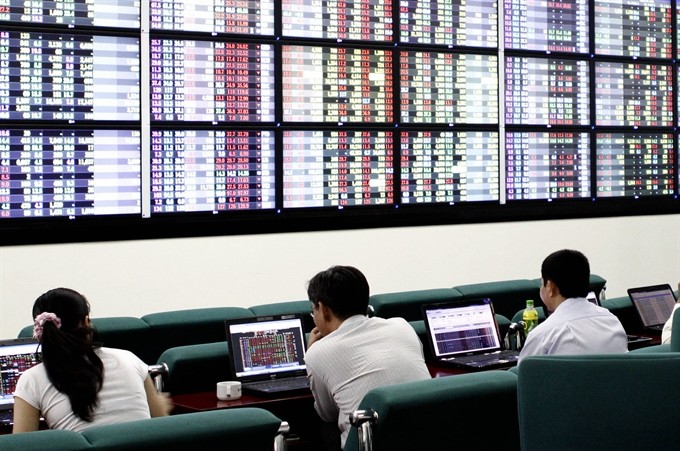 Investors keep track of stock movements at a trading platform of Maybank KimEng Securities Co in HCM City. — VNA/VNS Photo Hoàng Hải
The VN Index on the HCM Stock Exchange edged up 0.4 per cent to finish at 671.38 points and extended its rally of 3.1 per cent for the fourth consecutive day.
The HNX Index on the smaller Hà Nội Stock Exchange grew slightly to end at 83.30 points. The northern exchange index has increased by 1.1 per cent over the last four sessions.
The market continued its upward trend as investor sentiment improved after the central Bank of Japan decided to keep its negative interest rates unchanged on Wednesday and the US central bank decided to unchange its interest rate on the same day.
Such positive signals from two of the world's biggest central banks were highly welcomed by market analysts, including those in Việt Nam.
"The unchanged interest rates announced by the US and Japan's central banks on Wednesday lifted investors' worries off," Sài Gòn-Hà Nội Securities Co (SHS) wrote in its daily report.
"The news will continue to boost both international and local stock markets in the short term," Bảo Việt Securities Co (BVSC) said in a note.
Higher investor sentiment helped increase investments in large-cap stocks. Of the 30 largest listed firms by capitalisation and liquidity in the sub-index VN30 Index, 21 advanced while nine were negative.
Among those large-cap stocks, Vietcombank (VCB), insurer Bảo Việt Holdings (BVH), consumer goods producer Masan Group (MSN) and property developer Vingroup JSC (VIC) rose between 0.1 per cent and 3.7 per cent.
The unchanged interest rates made by the US central bank also helped extend foreign net buying for a second day and lower the daily reference mid-point rate for trading between the Vietnamese đồng and the US dollar.
The mid-point rate yesterday fell VNĐ9 to VNĐ21,944 for one US dollar while foreign investors recorded a net buy value of VNĐ24.4 billion (US$1.08 million).
Market trading liquidity was slightly changed from Wednesday. Nearly 187 million shares were traded worth VNĐ3.83 trillion.
"The rise of the two indexes slowed down during the near-end period of the session as investors sought for short-term profits after they swooped in on low-priced stocks last week," SHS said.
Energy stocks were among the worst hit by profit taking after they have benefited from a four-day rally in crude prices.
Dairy producer Vinamilk (VNM) still traded in negative terriority. VNM yesterday closed down 0.4 per cent, losing total 12 per cent since the beginning of this month.