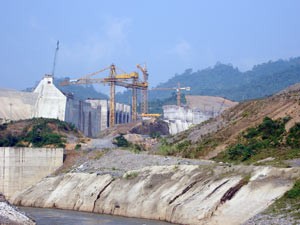 Tuyen Quang hydroelectric plant, one of Song Da Corporation's investing projects. (Photo: T.L)
Song Da Corporation says it will gradually increase the issuing volume of bonds to a total value of VND2,000 billion (nearly US$125 million) to raise the capital it needs for growth.
The Construction Ministry-controlled corporation estimates it needs to raise VND25,000 billion (US$1.56 billion) in the 2006-2010 period.
Mr. Nguyen Van Xuyen, deputy manager of Song Da's finance department, says the corporation finished its second-phase issuance of VND260 billion worth of corporate bonds on August 25.
After two phases of bond issuance, the first being in 2005, Song Da Corporation has mobilized VND460 billion through this channel.
Beside the traditional bank loans and now bonds, Song Da has actively raised money through stock-market listing.
One of its subsidiaries, the Song Da Urban & Industrial Zone Development and Investment Joint-stock Company (Sudico), is listed on the local exchange. At close of trading on Monday, Sudico (SJS) was priced at VND138,000, the highest priced stock of them all.
Related Articles:
Vinaconex to Offer VND 650 Billion Worth of Share
Hydropower Plant to Bring Light to Central Highlands Villages
Sudico's Record Debut