The State Capital Investment Corp (SCIC) is looking to divest 281 enterprises and to sell the entire State stake in 170 local enterprises, General Director Lai Van Dao told a recent meeting.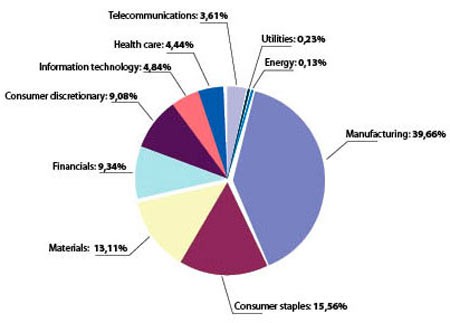 SCIC portfolio by sectors
Mr. Dao said the corporation, the representative of State capital in State-owned enterprises, would diversify financial and project investments, making those in major sectors a priority.
The corporation has 538 enterprises in its portfolio.
"The selling of State capital would be one of the major priorities of the Government as State capital in State-owned enterprises is reduced in industries that do not need a great deal of State control," the Government's Enterprise Reform and Development Vice Chairman Pham Viet Muon told reporters.
SCIC sells State capital by public auction, with securities companies acting as consultants and trading agencies.
Last year, SCIC divested 106 companies, including sales of the entire State-owned stake in 97 local firms for VND642 billion (USD29.86 million ), more than twice their book value. SCIC gained a total revenue of VND2.75 trillion (USD127.91 million ), including a pre-tax profit of VND2.44 trillion (USD113.49 million ).
Since it was established in 2005 to December 31 last year, SCIC had overseen the State stake in 932 enterprises, divested 442 enterprises including sales of the entire State stake in 399 firms for VND2.21 trillion (USD102.79 million ) compared to the book value of VND984 billion (USD45.77 million).