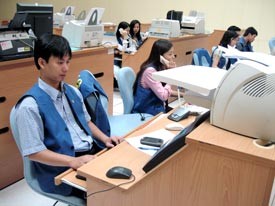 Securities analysts monitor the stock market at the Ho Chi Minh City Stock Exchange Center. (Photo:TC)
The State Securities Commission (SSC) recently urged the Financial Ministry to propose extending foreign investors' stake-ownership in listed enterprises to confront with the market's recent sharp falls.
According to the SSC, the Vietnamese regulations limiting foreign investment should be redesigned to widen the participation of foreign investors in listed enterprises in order for the stock market to grow to its potential.
As currently regulated, when an enterprise is listed, foreign investors can only own a maximum of only 49% of the listed shares of the enterprise (and 30% in a listed bank).
Foreign investors to Viet Nam have been major contributors to Viet Nam's development and domestic securities market over the past six years, not only in terms of their financial participation but in the motivational quality of a growing foreign presence.