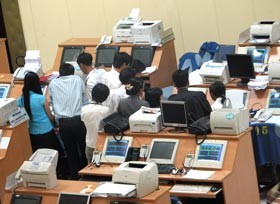 Brokers have an unwanted break time in the morning (Photo: Tuong Chau)
The Ho Chi Minh City Securities Trading Center's breakdown on the Friday morning was fixed in the afternoon, and the stock exchange will operate normally for the new week, officials said.
The trading floor got into trouble during Friday's first transaction and the electronic screens showed only minus figures. Investors failed to know what happened.
After the first transaction, the trading floor went off; therefore, there were no following transactions. Investors did not know whether the first transaction's deals were valid.
A stock exchange official told Sai Gon Giai Phong that the breakdown was due to "technical errors" and had been fixed.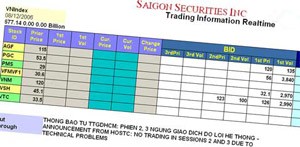 The Saigon Securities Inc. board is still empty on the Friday afternoon
This is the first time the six-year-old stock exchange had to halt transactions twice – the second and third transactions after the first of the day. State Securities Commission president Vu Bang approved the pause in the morning and flew to Ho Chi Minh from Ha Noi to direct troubleshooting.    
Good news for investors is that all deals done in the morning are valid, as announced by the stock exchange.
Many investors said it was lucky that the breakdown took place in the final operating day of the week. However, they said they were disappointed with the fact that the Securities Trading Center did not explain the incident immediately.
A thing that worries investors a lot now is whether such breakdowns will occur in the future, when the size of the market will become bigger and bigger.