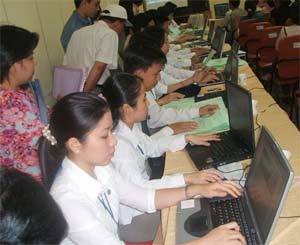 Investors register to purchase stocks at the Ho Chi Minh Securities Trading Center. (Photo: TK)
The VN- Index at the end of this morning's session closed down 15.06 points at 1033.92, or 1.44% lower than the previous session due to a strong drop in both supply and demand.
At the session's close, the market's trading volume reached only five million shares worth a total VND530.9 billion. 84 out of 110 stocks fell dramatically, including PPC, STB, VNM, VSH and FPT. Of the remainder, 11 stocks rose while 15 remained unchanged.
In the previous session yesterday, stocks in Ho Chi Minh City also took a downward spiral when the VN-Index decreased slightly by 1.92 points, closing at 1048.98. The total trading value was very modest at VND571 billion.
The session produced 45 losers (among them blue chips like PPC, STB, REE, SAM, GMD and CII) and 36 winners out of the total 109 stocks.
Individual investors became more anxious as the market kept falling and analysts predicted that strong declines will continue until the VN-Index goes below the 1,000 point.
This morning session
Related links: