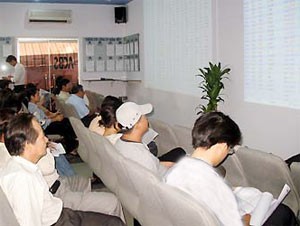 Investors are anxious as the stock market is falling remarkably (Photo:TK)
The VN-Index fell again today to close well below the psychologically important 1,000 level. 
This morning saw the index lose nearly 30 points to end the session at 983. Of the 109 stocks listed on the Ho Chi Minh City bourse, 97 lost ground, ten held steady and only two gained - FPT and ALT.
Worrying that the market will continue to cool, as predicted by most of the pundits, investors are waiting to see how shares perform after the six-day break for Independence Day, and after the real-time matching scheme becomes operational on May 7.
Those punters who bought in at the top are hanging on to their shares in the hope that prices recover, which partly explains today's small turnover of 4.9 million shares.
Despite the relatively light trade number-wise, the session's trading value reached a ten-day high of VND680.8 billion.
A finance analyst says the Vietnamese government is taking measures to cool the market and suggests the falling stock market can be blamed somewhat on the increasing supply of listed firms and the prospect of more big corporations going public this year and flooding the local bourse with shares.
The Ho Chi Minh City Securities Trading Centre reports that 20.4 million securities were traded last week, an average of 4.1 million a day, while the total trading value was nearly VND2.4 trillion, or VND478 billion a day.
These figures represent a considerable decrease from the previous week, when 27.7 million shares swapped hands for more than VND3 trillion.
Today's winners and losers
Related links: