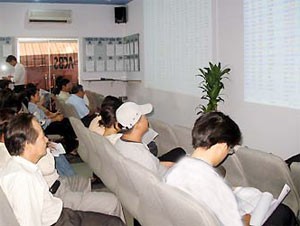 Investors feel worry as the market is going down. (Photo:TK)
The VN-Index continued its decline to close at 905.53 points this morning, a fall of 25.65 points from the previous session at the Ho Chi Minh City Securities Trading Centre.
Only 18 of the listed stocks rallied, a dozen moved nowhere, and 80 dropped in price.
Blue-chip shares decreased sharply with FPT down by VND22,000, BMC by VND19,000, SJS by VND14,000, BMP by VND9,000 and PVD by VND10,000.
More than 4.6 million shares changed hands for VND473 billion.
Brokers report that many of the 60,000 new stock-trading accounts are well and truly in the red thanks to their optimistic owners buying in at the top and watching the market and their holdings decline in value ever since.Today's winners and losers
Related link