The stock market continued its slide this morning with the VN-Index dropping 17.44 points to close at 941.04. Up north, the HASTC-Index dropped 5.94 points to stand at 329.91.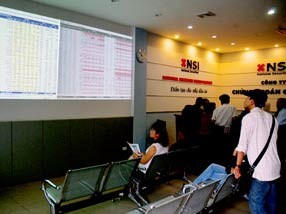 The VN-Index continues to drop these days
The market flowed red with 115 stocks shedding weight, eight staying the same and only eight gaining.

A series of slides by blue chips, including Petro Vietnam Drilling and Well Services (PVD), Saigon Securities (SSI), Vinamilk (VNM), REE Technology (REE), Tan Tao Industrial Zone (ITA), Schenker-Gemadept Logistics (GMD), Phu My Fertilizer and Chemicals (DPM), FPT Technology (FPT), Kinh Do Food (KDC), Saigon Cables & Telecommunication Materials (SAM), Vincom (VIC) and Sacombank (STB), left investors wondering whether the market has lost its resilience or not.

Worse, several shares dropped to their lower limits, including Hoa Phat Group (HPG), Ha Tien 1 Cement (HT1) and newcomer PetroVietnam Transport (PVT).

Even the news that HPG, SSI, VIC and HT1 are preparing for their upcoming share issues could not warm the market up.

But there is always light at the end of the tunnel. Trading volume saw an increase of 10 percent from last session, with 7.7 million shares changing hands at a value of VND744.7 billion.