With the global crisis having negative impacts on investors' transactions, predicting the stock market is very difficult, economic expert Dr. Le Vu Nam told Sai Gon Giai Phong.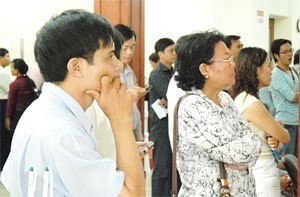 The stock market's extremely rapid drop has worried investors (Photo: SGGP)
Mr. Nam said the VN-Index has fallen below the psychological barrier of 300 points, down from a high of 1,200. As a rule, he said, stock increases to decrease and decreases to increase.
 
If the index drops to 100 points, which was the initial position on the Vietnamese stock market's first session in 2000, it should be considered an opportunity to buy stocks. And this has happened on Ha Noi bourse, he said. 
 
The market's extremely rapid drop has worried investors, Mr. Nam added.
 
Previously the stock market dropped because investors were affected by negative information on the macro-economy such as inflation, interest rates and high fuel prices, he said.
 
With inflation being curbed, the macro-economy stabilizing, cuts in interest rates and drops in the consumer price index, investors continue to be pessimistic due to the ongoing global crisis, he said.
 
Mr. Nam said even though many businesses have made profits, investors are still pessimistic and are selling shares, leading to falls in the VN-Index.
 
He pointed out that the index does not show the nature of the true economic situation and listed companies' operations, rather the current state of investors' psychology.
 
The stock value does not express the listed company's real business situation, he said, adding that some companies are doing well yet their share price continues to drop.
 
At present, investors should not evaluate the "health" of a company through its share price, Mr. Nam advised.