The Ho Chi Minh Stock Exchange on Wednesday closed the last trading day of the year with a slight fall.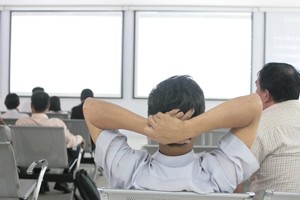 Investors watch stock prices updated on a trading board at a HCMC-based brokerage. (Photo: Thieu Gia)
VN-Index, Vietnam's major stock index, ended three days of advances, falling 0.7 points, 0.2 percent, to close at 315.62. Of index members, 61 gained, 71 dropped and 38 remain unchanged.
The benchmark index, listing 174 firms and closed-end funds, dropped 66 percent this year, posting the biggest annual loss since 2000 when the country opened its first exchange.
Corp. for Financing and Promoting Technology, a Hanoi-based software company partly owned by Deutsche Bank AG, dropped VND500, 1 percent, to close at VND50,000 ($2.85). Nguyen The Phuong, the company's chief accountant, sold 30,000 shares to reduce his stake to just more than 41,000 shares, the company said in a statement posted on the bourse's website after the market closed yesterday.
Thuan An Wood Processing Joint-Stock Co (TAW), gained for the sixth day, rising VND300, 3 percent, to close at VND10,300 ($0.59), the highest price since November 6. The company, based in the southern province of Binh Duong, met this year's profit target VND7.5 billion ($429,000) and signed export orders of about $10 million, according to Le Thi Xuyen, TAW's chief accountant.
Thanh Cong Textile Garment Joint-Stock Co. ended four days of gains, dropping VND300, 3.3 percent, to VND8,700 ($0.50). Nguyen Dinh Lam, deputy general director of finance and investment and chief financial officer, will quit his job at the Ho Chi Minh City-based company January 1, citing personal reasons, VN-Index bulletin reported today.
The Hanoi Securities Trading Center remained unchanged, with HaSTC-Index losing 0.3 percent to end the year at 105.12 points. The index of 168 companies fell 67.5 percent this year.
Both exchanges will close Thursday for New Year.