Vietnam's major stock market in Ho Chi Minh City closed higher Friday after prices seesawed before ending in positive territory.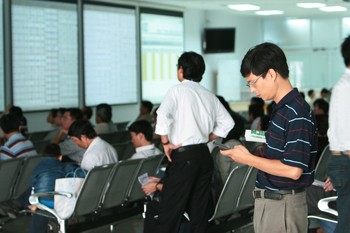 (Photo: Thieu Gia)
VN-Index of 174 funds and companies gained 2.3 points, 0.8 percent, to close up at 304.46. Over half of all listed companies ended the week with gains.
Transport firm Vinaship Joint Stock Co. remained unchanged at VND13,700. The firm announced on the CN-Index website that Mai Xuan Ngoat, member of the board, bought 5,000 shares to raise his holdings to 258,100.
Dong Thap based Vinh Hoan Corp. rose for the first time in four days, gaining VND800, 4.7 percent, to VND18,000. The global economic slowdown has had little effect on the company's business. Vinh Hoan is expanding to meet export orders next year, said the company's spokesman.
Minh Phu Seafood Joint Stock Co. rose VND100, 0.9 percent, to close up at VND11,700. Aranda Investment sold more than 3.9 million shares to reduce its stake in the company, Thoi Bao Kinh Te Vietnam newspaper reports.
Saigon Fuel Joint Stock Co. fell VND2,500, the daily maximum limit of five percent, to VND47,500. The CEO, Cao Van Phat, has sold 26,000 shares within a month to cut his holdings in the HCM City based company to 1,800 shares, Saigon Times Daily reports.
Traphaco Joint Stock Co. advanced VND900, 2.3 percent, to VND40,900. Vu Thi Thuan, Chairwoman and CEO, bought more than 18,700 shares to raise her stake in the Hanoi company by 0.24 percent to 1.5 percent the Saigon Times Daily reports.
The smaller market in Hanoi, HASTC-Index, also wrapped up the week with a minor rally, edging up marginally by 0.62 percent to close at 105.62 points.