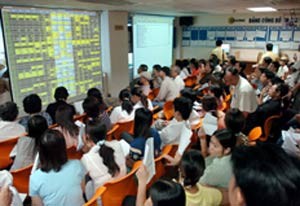 Investors start to worry about the stock prices when they are all going down in the recent days. (Photo: TK)
The VN Index fell strongly for the sixth successive session this morning to close at 1,034.24 points. Only 6.5 million shares were traded for just VND819 billion, down by 3.54% from the previous day.
All but four of the 110 companies listed on the Ho Chi Minh City Securities Trading Center saw their share price decline, while three stayed level (BMP, DHG, VNM) and one (BMC) actually bucked the trend and went up.
It was a continuation of yesterday, when the trading volume dropped by over 800,000 to 7.3 million shares and the trading value was down by VND115 billion from the previous session's VND873 billion.
Analysts have been tipping a correction in Viet Nam's stock market for quite some time and their prediction was repeated at last week's Vietnam Business Forum. Indeed, many of the participants felt the market could decline by 30% before stabilizing.
Mr. Chris Leahy from Euromoney said that Viet Nam's stock market, where the money swapped for shares was rising by half a million dollars a day, was way overheated.
Mr. Kevin Snowball, director of PXP Vietnam Asset Management, said many stocks had become overvalued and suggested that the Vietnamese government intervene to prevent an all-out crash.
The foreign investment funds are leading the way in selling their share holdings, having picked up some nice profits since buying into the market in the past few years.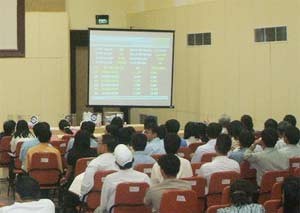 Investors are looking for more corporations listing on the stock market this year. (Photo:TK)
With more companies announcing their intention to list or issue additional shares, the threat of a huge overhang is very real and may have contributed to the market's decline over the past week.
More listings this year
A recent release from the Government Office spells out guidelines from the Prime Minister for developing Viet Nam's stock market in a sustainable manner and for speeding up the listing process.
According to the release, as many as 20 industry groups and large corporations along with four state commercial banks will be partly privatized, or "equitized", and will subsequently list on the local bourse in 2007.
On top of these, more than 400 state-owned enterprises are to be equitized this year, and perhaps over half of them could list on the exchange.
If the government's plans become reality, the capitalization of Viet Nam's stock market will hit VND90 trillion (US$5.625 billion).
Among the equitization candidates for 2007 are the Saigon Beverage Corporation, Hanoi Beverage Corp., VinaPhone, MobiFone, Vietnam Glass and Ceramics Corp., the Oil and Gas Technology and Service Corporation, Cotec Group, Construction and Installation Corporation 1 and several power plants with chartered capital of VND1-3 trillion.
Session change this morning session