An investor in Ho Chi Minh City, who asked not to be named, recalls he fortunately gained rights to buy 2,000 bonus shares in a property firm at VND20,000 per share two years ago, which was much lower than the share's price on the market at that time.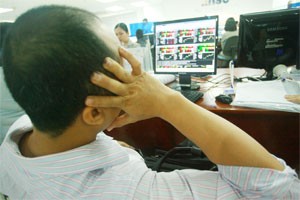 Many stocks on both bourses in HCMC and Hanoi almost have no liquidity (Photo: Minh Tri)
The company stated that the bonus shares could not be sold two years after they have been issued.
Yet the current bearish market leaves the firm's share price slumping dramatically.
"My investment in those bonus shares lost 50 percent," he says.
Ngoc, another investor in HCMC, says she has bought 3,000 shares in a lender in town at the price of VND30,000 per share, which was also much lower than the market price at that time.
The share price then plunged to below the face value of VND10,000 due to the slumping market, forcing her to register to sell the entire holding.
However, the sell-off remains still undone as she struggles to find buyers.
Brokers say many stocks' liquidity on both bourses in HCMC and Hanoi is extremely low, with a monthly trading volume of measly around thousands of shares.
Among them are Vietnam Active Fund (VFMVFA), seafood exporter Ben Tre (FBT), auto accessories supplier Truong Long (HTL), cement producer Hai Van (HXV), builder Constrexim (CX8) and Veterinary Pharmacist Cai Lay (MKV)
"It will take two months to sell off more than 10,000 shares in one of those stocks," a broker in HCMC told Dau Tu Tai Chinh Newspaper.
Weak buyback
Some investors say they suffer heavy losses due to listed enterprises' inexplicit financial announcements.
"Earlier I bought 2,000 shares in the Urban Development and Construction Corporation (UDC) at VND15,000 per share," says Buu, a trader in HCMC.
"Later I bought more than 8,000 shares at a very low price as the firm announced to buy back shares. However, the company just bought back with low volumes and the price kept dropping dramatically to VND4,000."
Urban Development and Construction Corp. announced on the Ho Chi Minh Stock Exchange's website that it would buy back 1 million shares in three months starting on June 3rd in an effort to "stabilize the share price".
"Many investors halted selling off their holding as they bought into the firm's announcement," Buu says.
"Yet the company has barely made buybacks since June 3rd. I did not see any buying orders even though just hundreds of shares in the construction firm were offered on the market."
The Ho Chi Minh Stock Exchange warned on its website on Thursday that the Ba Ria-Vung Tau Province-based builder bought treasury stock on August 4th, but ordered price and quantity in versions, which has not regulated on trading treasury stock.