The Ho Chi Minh Stock Exchange slid to a three-year low on February 4 despite a rally in international markets.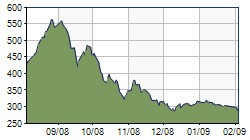 Source: BIDV Securities Company
The VN-Index closed at 286.11 points after losing 2.58 points, or 0.89 percent.
Trading volume fell 31 percent to 5.3 million shares worth VND117 billion ($6.7 million). Of the index members, 51 rose, 43 remained unchanged, and 82 fell.
But other Asian markets gained for a second consecutive session on tentative signs of an improving outlook for the battered global economy, according to Reuters.
The MSCI index of Asia-Pacific stocks outside Japan advanced 1.3 percent as of 03:15 GMT, led higher for a second day in a row by technology shares such as South Korea's Samsung Electronics and Japan's TDK Corp.

Japan's Nikkei average rose 2.2 percent, while markets in South Korea, Hong Kong, and Shanghai advanced 1-2 percent each.

Among the day's winners in HCMC was Tan Tao Group (ITA), which crept up VND200, or 0.85 percent, to close at VND23,600. The industrial zone operator has received approval from the exchange to issue more than 3.6 million bonus shares to its employees.
Bao Minh Insurance Corporation (BMI) remained unchanged at VND15,400. The insurer has sought the exchange's approval to delay release of its fourth quarter results until February 25. Bao Minh said the lunar New Year break had delayed the accounting process.
Taicera Industrial Ceramics Joint-Stock Co. (TCR), which manufactures and exports ceramic tiles, lost VND400 dong, or 5 percent, to close at 7,600. Taicera said fourth quarter net income plunged to VND346 million ($19,800), from VND28.3 billion in the previous quarter.
Thong Nhat Rubber Joint-Stock Co. (TNC), which manufactures and processes rubber products, fell VND100 dong, or 1.33 percent, to VND7,400, its lowest level since December 25.
The company reported a loss of VND11 billion in the last quarter of 2008, according to the exchange.
The smaller exchange in Ha Noi also edged down, with the HaSTC-Index falling 0.72 percent to finish at 93.82, a new all-time low.